Swans can't afford to lose ground
Barring a late-season Merseyside meltdown from either Liverpool or Everton, the best the Swans can realistically finish this season is eighth place. Swansea presently sit ninth, three points behind West Brom.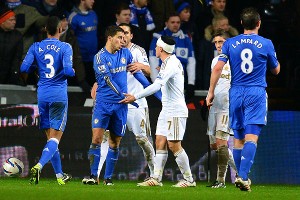 Andrew Yates/AFP/Getty ImagesChico Flores, with bandage, confronts Chelsea's Juan Mata after Mata kicked a ballboy during the second leg of Swansea's League Cup semifinal win over the Blues. Chelsea has not beaten Swansea in three tries this season (one loss, two draws).
Swansea need to keep the pressure on the Baggies, but a tough schedule pits the Swans against Big Six opposition in three of their remaining five fixtures. By the time Swansea take the field at Stamford Bridge to play Chelsea this Sunday, West Brom will have already played Southampton.

A West Brom win and Swansea loss would open up a six-point gap, and with both Manchester clubs still on the fixture list, the Swans' aspirations for eight might then be over. The pressure is firmly on Swansea, especially with West Ham, Fulham, Southampton and Norwich within swinging distance of ninth.

As aspirations go, eighth place might not seem like much of an a target but it's at least something for the side to aim for. Despite having already won the first major trophy in club history, Michael Laudrup would very much like to better his predecessors' final league position -- Swansea finished 11th under Brendan Rodgers last season -- so even 10th would make a statement.

In fairness, Laudrup's Swans ought to finish higher. 'Second-season syndrome' was never going to be an issue with a change of manager, and Laudrup has proven to be more tactically conversant than Rodgers, improving both attack and defence, albeit at the expense of a couple of percentage points of possession.

The calibre of this season's Swans is greater than that of last season's, with Laudrup bringing in players -- some familiar from his previous managerial posts - who could effectively fit into his system. All things considered, finishing lower than 11th would be disappointing.

With recent convincing displays against Norwich and Southampton, Swansea appear to be emerging from a post-cup slump which saw unfocused performances unnecessarily lose the side points. Hitting a good run of form to close the season would help sell the club to some of the side's summer transfer targets.

However, good form might not be enough. Fourth-place Chelsea are looking to use a game in hand on third-place Arsenal to gain a better Champions League position, and so won't be pulling any punches. One thing in the Swans favour is the sides record against the Blues this season -- two draws and a win in all competitions. Of course, you could argue that perhaps Chelsea are due.

Another interesting storyline will be the contest between PFA Player Of The Year candidates Juan Mata and Eden Hazard of Chelsea and controversially overlooked Swansea star Michu. The lanky Spaniard was unlucky not to score against Southampton last time out, after finding the net against both Norwich and Tottenham in previous weeks, and he also scored one of the two Swansea goals which knocked Chelsea out of the League Cup.