Last pass stops Swans versus Saints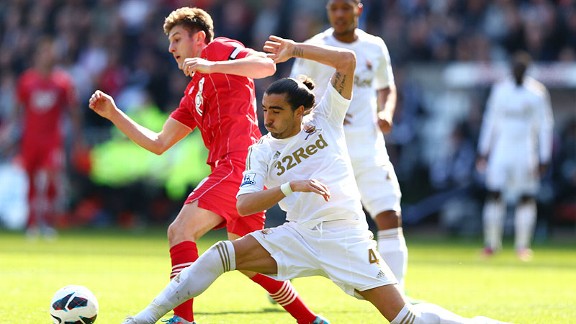 Michael Steele/Getty ImagesSwansea's Chico Flores did a solid job marking Southampton's dangerous Adam Lallana in their 0-0 draw on Saturday.
A fixture which promised good football didn't disappoint, even if there were no goals for either side to celebrate as Swansea and Southampton played to a 0-0 draw at the Liberty Stadium.

- Match report: Swansea 0-0 Southampton

The Swans started well in the first half, all intricate passing and quick, cutting attacking play. As in the earlier fixture between the teams, former Southampton player Nathan Dyer put in a convincing performance, benefiting from a similarly impressive game by right back Angel Rangel.

In fact, such was the threat posed by the combination of the two on the Swans' right flank that Ben Davies's frequent forward runs into acres of space on the left were routinely wasted. It wouldn't have mattered had the Swans been able to find a finish, but Southampton's increasingly frequent counter-attacks gave the Saints enough confidence to start dictating the game by the close of the first half.

The primary reason for the Saints' ascendency was largely tactical. Southampton's high line remained unpunished by the Swans, who seemed happier to rely on crosses from the right flank than potentially more dangerous central through balls. As a result, the Saints were able to push even further up, contracting the field of play and forcing Swansea into playing uncharacteristic long balls, which Southampton's defence were happy to collect.

Luke Moore had started the match as the Swans striker, but after Swansea failed to exploit the advantage provided by Moore's size and aerial threat, he was withdrawn at the interval in favour of playmaker Wayne Routledge.

Moore's recent run of games appears to have been engineered for the striker to show why he deserves a new contract; today's showing will have done little to help, but in fairness, Moore wasn't given much useful service; Swansea's corner kicks in particular a disappointment.

Michael Laudrup's substitutions -- first Moore for Routledge and later Ki Sung-Yueng for Pablo Hernandez -- signalled a tactical shift, and with less emphasis on crossing, the Swans' better chances came in the second half, particularly since Southampton were forced to defend a little deeper in response.

Michu, Ki and Jonathan de Guzman all had decent shots and chances, while the threat posed at the other end by Southampton's Adam Lallana, in particular, was kept in check by a physical Chico Flores.

Southampton might have stolen a result with two minutes or so left to play after a defensive lapse of concentration from Ki forced Michel Vorm into making a third goal-saving stop of the afternoon.

Ultimately, a composed away performance from Southampton was enough to earn a 0-0 draw. Despite the result, Swansea looked much better overall than in recent matches, and but for a lucky bounce or a decent final ball might have won comfortably.

The Swans build-up play usually sees a few white shirts get into or around the box -- it might be nice to see a few more low-driven shots from the edge of the area instead of an over-reliance on a perfect last pass. With all those bodies in the way, anything could happen, and sometimes a little bit of chance can be the missing ingredient in even the most elaborate plan.

Final Thoughts:

Positives: Better all-round performance. Michel Vorm.

Negatives: Not enough shots. Swans trying a little too often to force the final ball.