Swans with work to do against Saints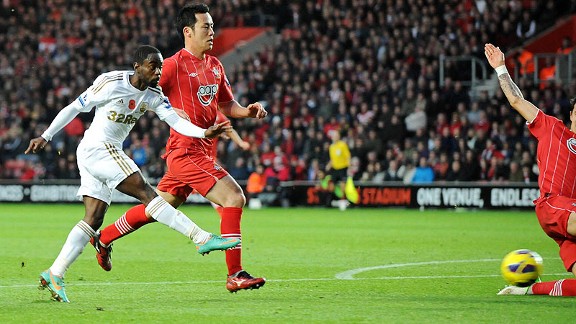 OLLY GREENWOOD/AFP/Getty ImagesNathan Dyer scored a late equalizer to help Swansea earn a point at Southampton in their first meeting this season.
The Swans were terrible in their last showing against Southampton, settling for a barely deserved draw against what was then the Premier League's worst defence. On Saturday, Michael Laudrup's men will greet a re-energised Southampton who have recently beaten both Liverpool and Chelsea en route to winning three of their last four games.

The Saints have shown new life after settling in under the watch of new manager Mauricio Pochettino. At the time, the decision to can former boss Nigel Adkins seemed ludicrous. Now, Southampton look well on their way to preserving their Premier League place for another season. In fact, Southampton sit just three points behind the Swans, who at least have a game in hand.

Speaking of games in hand, Fulham spurned their extra games with poor results and failed to over-take Swansea, leaving the Swans in ninth place and needing a win to draw level with West Brom. If this was the same Southampton side from earlier in the season, I'd say all the Swans needed to do was play to par. Now, the Swans will need to do that and probably a little more.

Southampton have plenty of players who can hurt a side. Gifted technicians such as Gaston Ramirez and Adam Lallana compliment former talisman Rickie Lambert and the heir to his throne, Jay Rodriguez.

Southampton ought at least to be vulnerable defensively. The Saints play a high line which will no doubt see Michu caught offside at least once, but might just as easily present any one of Swansea's front four with a breakaway chance or two.

The Swans' equaliser in the last match came late in the game courtesy of former Saint, Nathan Dyer, about the only Swansea player on the day who looked like he wanted to score. His goal was itself the product of pressure on the goalkeeper from Michu, which in turn led to a defensive gaffe from Maya Yoshida. While the Southampton forwards might be playing with confidence, their defence might still be susceptible to pressure from the Swans' own talented attackers.

This will be a difficult game to win, but regardless, the Swans must expect three points. Swansea are playing at home, and compared with the next two fixtures versus Chelsea and Manchester City, this one has to look inviting.

Goalkeeper Michel Vorm has lately been justifiably critical of the Swans' team effort, and it seems to be no coincidence that his name has lately also been cropping up in transfer rumours. Perhaps the veiled message is "make an effort or I'm leaving". It might only be a product of media mis-information and mis-quotes, but the Swans' outfielders would nevertheless do well to listen.

With any luck, Michu will feel like he has something to prove after being snubbed in the reckoning for the Premier League Player of the Year award. Michu might not have won it, but to not even make the shortlist of six names has to be galling.

The obvious knee-jerk response to the snub is to roll out cynical ripostes about how players from smaller clubs are always overlooked. And it's true. Small clubs or not, I'd wager some of the weekend's best football will be played at the Liberty. Perhaps Roy Hodgson should pay a visit?