Swans set to renew rivalry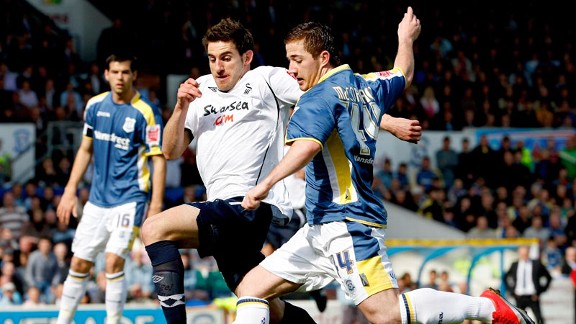 Stu Forster/Getty ImagesSwansea's Angel Rangel, left, battles with Cardiff's Ross McCormack, right, during a 2009 Championship contest. The two Welsh sides will be Premier League rivals in 2013-2014.
It has been noted many times already over the past couple of years, but these are good times for Welsh football. Gareth Bale is talked about as one of the best players in the game, Swansea City became the first Welsh side to be promoted to the Premier League and continue to establish themselves in the top flight, and now the Swans' archrivals Cardiff are set to join the party.

- Laudrup welcomes Cardiff promotion

The renewal of one of British football's fiercest rivalries will be interesting to watch. Swansea City have not played Malky Mackay's Cardiff before; Cardiff have not played Michael Laudrup's Swans. A lot has changed for each club since they last met at the Liberty Stadium in February 2011 (Cardiff won that game, 1-0, after Swansea had won the earlier fixture by the same scoreline).

The most obvious changes have occurred (far) east of the relative serenity of Swansea, with Cardiff's Malaysian owners controversially forcing a club colour and crest change as part of an investment deal. There might be more to come, with talk of a name change -- to Cardiff Dragons -- not ruled out with any great conviction by the club.

The changes have already alienated large sections of the team's fan base. A Cardiff fan I know personally said he "felt nothing" when the side achieved promotion with a goal-less home draw versus Charlton last week.

With the Capital side now looking like an ersatz Wrexham, I wonder why the owners didn't just buy that club instead. Plus, a certain British supermarket paid so much of the Cardiff City stadium costs that Cardiff really ought to be playing in green before red.

No matter. In the meantime, Swansea have quickly grown into their Premier League boots, and presently boast a pedigree of players which, with all due respect, far eclipses the Championship Swans which won promotion two years ago.

There is a chance these two clubs might not recognise each other when they meet next season, and an even bigger chance that the number of players born in either city that participate will be easily counted on one hand.

It could be argued that the rivalry has lost some of its edge. When Cardiff's ownership ditched the club's original colours and crest, a lot of tradition was left in the skip outside -- tradition that includes a chunk of the South Wales rivalry.

Some of Cardiff's most passionate supporters -- and therefore those for whom the rivalry might have meant most -- have even floated the idea of starting a new club, akin to FC United, the team founded by Manchester United fans in protest to the Glazer family takeover.

The idea is perhaps representative of the differences between the clubs. The sides are almost polar opposites: Swansea are 20% supporter-owned, Cardiff are backed by multi-millionaire foreign owners. Swansea have no debt, Cardiff owe something like 86 million pounds (not that unusual for a football club in this day and age). Swansea have a foreign manager and play continental football, Cardiff have a British manager and corresponding style. The differences should at least make for a good match when the time comes.

It is sadly impossible to talk about the South Wales derby without mentioning fan violence. With the derby set to play out on the biggest stage in its history, it is more important than ever for the fans to let the teams do the talking. Welsh football has come an awful long way of late, but its new reputation could be easily tarnished.

With the football world forced to re-address hooliganism following the behaviour of Millwall and Newcastle fans recently, any similar incidents at either of the two South Wales derby fixtures will give those who already stand opposed to Welsh involvement in the football league more ammunition.

Swansea, Cardiff and Welsh football has grown up a lot in the past few years. If the fans have too, then the South Wales derby has the potential to be a marquee event on the Premier League calendar, even if the teams themselves might need a little bit of time to get to know each other again.