Townsend good fit for Swans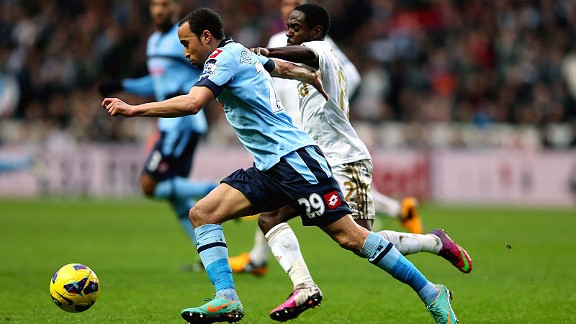 Warren Little/Getty ImagesAndros Townsend, left, tries to escape Swansea's Nathan Dyer in Swans' 4-1 home win over QPR Feb. 9.
Ash Williams continues to be the most talked about player in terms of Swansea transfer rumours, with Arsenal now emerging favourites over Liverpool to sign the defender.

Talk has it that the player has been allowed to discuss a contract with the Gunners, which means the clubs must have agreed on a fee in principle. While it looks at least slightly likely Williams might be on the way out, a different face altogether might be coming in -- Tottenham's Andros Townsend.

Townsend is a young winger-cum-striker who former Spurs boss Harry Redknapp likes so much he brought him to QPR on loan. He's also the same player I once described as a human free kick waiting to happen, following a game against Swansea in which his primary talent seemed to be to fall over at the slightest provocation.

No matter; should he bring the same inclination to Swansea, at least the likes of Ki Sung-Yueng and Jonathan de Guzman might be able to make some use of the extra set pieces.

Having seen Townsend play again since (albeit not against Swansea), I was impressed with his engine and decent ball-control skills. He seems the sort of player who can occasionally go on accidental-looking mazy runs in which he seems to be chasing the ball as much as directing it, although if the end product means a created chance or shot on goal then what does it matter if he often looks one step away from disaster.

In the interest of seeing how Townsend compares with Swansea's current wingers, I juggled some basic numbers and found out that not only does Townsend have a hidden talent for tackling, but Pablo really doesn't cover himself in glory on the stat sheet. I didn't include Roland Lamah because Lamah hasn't played enough yet.




Townsend actually acquits himself very well. He places second in nearly every category, and even trumps Nathan Dyer's legendary defensive chops when it comes to putting the boot in.

In terms of passing, Townsend falls comfortably within the Swansea City zone of competence. As you can see, there really isn't much to separate the four players, but it is worth noting that very few Swansea players have a passing accuracy of less than 80 percent or so, with many routinely eclipsing 90 percent. Townsend would fit in well so far.

Crossing is similar, and Townsend's 24 percent accuracy is a lot closer to Routledge's team-leading 27 than Dyer (22) or Pablo (20). Once again, Townsend meets Swansea's demand for technical excellence. At the time of the last European Championships, all four of these figures would have been on par with the wingers in contention for England, for example (and better in some cases - I remember Tottenham's Aaron Lennon had 17 percent, which may be why he wasn't selected).

Wayne Routledge has an advantage so great when it comes to shooting accuracy that it almost looks like a mistake (it isn't), but Townsend's healthy 42 percent shows why he can be employed as a surrogate striker. Following on, his chance conversion of 17 percent isn't fantastic, but it still beats Dyer and Pablo, and they have three goals apiece, which is useful auxiliary scoring if nothing else.

Last of all, Townsend's impressive tackling success rate is likely a product of his industrious work ethic (assuming the game I saw wasn't a one-off), but since nobody expects wingers to do much tackling, any proficiency in this area has to be considered a bonus.

Overall, Townsend holds his own in all these admittedly basic statistical categories. However, as Pablo's undue last-place-in-everything showing should attest, basic stats can only prove so much.

Regardless, Townsend looks as if he would be a decent addition to the squad, and would help the club meet the home-grown players criteria. Tottenham are apparently asking five million pounds. That's probably a bit steep, but such is the premium on domestic talent. This will be an interesting rumour to watch.