Moore helps Swans prove point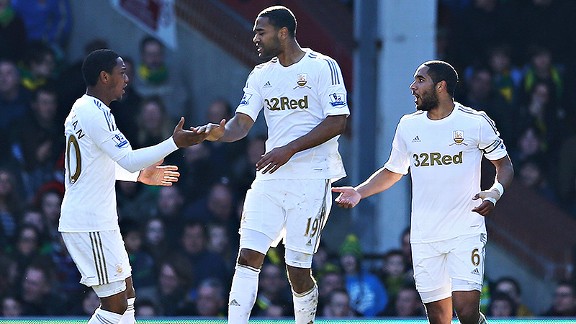 Matthew Lewis/Getty ImagesWith Luke Moore's late equalizer against Norwich, Swansea have now taken at least a point from every team in the Premier League this season.
Some rare April sunshine and a field full of divots lent a nostalgic atmosphere to proceedings as Michael Laudrup's Swansea attempted to break the jinx which Norwich have held over them the past couple of seasons. In the end, both sides had to settle for an acrimonious 2-2 draw.

- Davitt: Norwich forced to take hard road to safety
- Hughton content with point

Laudrup's latest attempt to win a game without Leon Britton would eventually fail, but not for lack of trying. Things started out well enough. The Swans' unusual starting lineup, which featured contract-chasers Dwight Tiendalli and Luke Moore, played all the football while being ably watched by their initially over-matched opponents.

Swansea inevitably turned all that possession into an opening goal, with Michu demonstrating exactly why he's better played behind the striker. Moore got the nod in front of the Spaniard, and although Moore doesn't always appear to be doing very much, his pressurising of Mark Bunn in the Norwich goal contributed to the hamstring injury which would see a change of 'keeper early on. Moore would also later score, stroking home a lovely headed cut-back and perhaps making Laudrup think again about a new contract.

Meanwhile, Michu's ability to find space in the hole would cause Norwich problems all day long. It isn't often Michu misses three sitters, and had just one of them found the target this afternoon, there might be more to celebrate in South Wales this evening. Jonathan de Guzman's excellent cut-back to create the goal Michu did score was sublime -- a well-timed run while under pressure from two defenders, and even more evidence of de Guzman's better suitability to attacking roles than the deep role he was given today.

The de Guzman conundrum will be one of the Swans' key questions going into the summer. It seems likely Villarreal are going to want all of the seven million pounds they paid for him, possibly with interest. This is a player who has had his best games playing in Michu's favourite slot. With the likely arrival of Jose Canas to play deep, could Ki Sung-Yueng be next season's de Guzman? Seven million pounds is a lot of money to find with an expensive new striker already at the top of the shopping list, although de Guzman's set pieces might be worth a million alone.

On the subject of set pieces, it was inevitable that the Premier League's own set piece specialists would score from one against a side that can't defend them very well. And of course Norwich did, but not before scoring a decent breakaway goal which exposed both Ben Davies's inability to deal with Elliott Bennett -- a battle Davies was on the beaten end of all game -- and Dwight Tiendalli's inability to deal with being a defender. It wasn't the best advertisement from Tiendalli, but at least he later made up for it by playing a part in the Swans' second goal.

For a good chunk of the middle portion of the game, Swansea's early superiority had been battered into frustration and annoyance by Norwich's frustrating and annoying style of play. Chris Hughton had apparently read David Moyes's best-seller from last season entitled 'Physicality and Pressure -- Two Ways To Ruin Good Football', and had made a concerted effort to master the second of those concepts, even if his players' execution of the first was ham-fisted.

Contrast Alexander Tettey's attempted assassination of Roland Lamah in the 90th minute with de Guzman's cynical foul from behind in the same minute. Both men knew what they were doing, both got cards, but only one pranced around the field like a child wrongly blamed for his brother's mischief, and it wasn't the Swansea player.

Grant Holt ruined Chico Flores's favourite socks with a blatant stud rake -- a red card offence at least half the time, but one he got away with today. Moments later Flores had to exaggerate his reaction to a Holt hand in the face to make sure the Norwich striker got at least half the comeuppance he was owed from the earlier incident -- and Holt of course protested. If you're going to play dirty, at least have the gumption to admit it.

This was towards the end of the game, the tail end of a chaotic period after the Swans' equalizer in which a game of pinball broke out. For a while it looked as though there was only one side playing, a side wearing white and yellow shirts which couldn't string a pass together and didn't like each other very much.

Finally, Michu's missed injury time sitter meant the Swans had to settle for a draw, but at least they've now broken the losing streak. What's more, the Swans have now taken points off every Premier League side, and that's got to be worth something.