Swans need breakthrough vs. Norwich
Michael Laudrup broke the spell QPR held over Swansea with his first game in charge, winning 5-0. Having since gone on to wring points out of other previously ungenerous opponents such as Everton and Manchester United, the Swans have one last bogey team to overcome -- Norwich.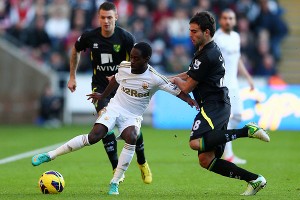 Paul Gilham/Getty ImagesSwansea and Nathan Dyer, center, will try to end a couple of streaks when they visit Norwich Saturday.
Since both sides were promoted in the summer of 2011, Norwich have won each of the three Premier League clashes between the sides. The most recent -- 4-3 at the Liberty Dec. 8 -- came courtesy of Swansea's frailty at set-pieces (and exacerbated by Robert Snodgrass' unsporting ball-spotting). Come Saturday, the Swans will have an opportunity to break another spell.

-- Canaries' Garrido vows to fend off relegation

Underrated sparkplug Anthony Pilkington's likely absence can only help the Swans, but whilst Snodgrass and Grant Holt remain at large, Swansea's defence will have to be alert. The return of Chico Flores and Angel Rangel should come as some relief.

While the Swans will be looking to end a three-match losing streak, it is Norwich who will be under pressure. The Canaries are superficially safe in 14th place in the table, but are still only four points above the drop zone. Beneath Norwich, under-performing Newcastle, possibly rejuvenated Sunderland and escape artists Wigan -- who have a game in hand -- are quite prepared to get a leg up from Chris Hughton's side.

Although the Swans are not in similar danger, a three-game losing streak does not help anyone's confidence; with both Manchester clubs and Chelsea still to play before the season's end, making sure that streak is abruptly halted will be important.

With all due respect to Norwich, Swansea must see this game as one from which they can take maximum points. Beyond cliches about there being no easy games, the reality is while the Swans can occasionally surprise the big sides, they are still susceptible to dropping points against the middle and lightweight teams.

So far this season, Swansea have drawn with Sunderland and last-placed Reading twice each, drawn with Southampton and lost in the home fixture to Norwich. If the Swans had taken just half the maximum points available from those games (nine instead of the five they actually managed), they'd presently be sitting comfortably in eighth place instead of four points back in ninth and on the brink of sliding further.

Finding some consistency -- especially against the Premier League's more vulnerable sides -- will be key to the Swans' ambitions to become a perennial Premier League team. The Swans safety in both their Premier League seasons has been guaranteed off the back of giantkillings and points carved out against superior opposition, not from beating up lesser sides, as might be expected.

Norwich are not a lesser side, and the Swans will be playing away from home. Three points will be a tough ask, but the Swans have apparently gotten used to doing things the hard way. With an established knack for beating the big boys, Laudrup need only find a way of winning more often than not against the lesser lights, and the Swans won't just be a perennial Premier League side -- they'll be a consistent top 10 side.

Norwich then will present a litmus test for the character of Laudrup's men. Although the Swans lost to Spurs last week, they acquitted themselves well with a tenacious performance. The next challenge is to get some points away from home against a bogey team who are potentially two losses from being in a relegation scrap. Unlike the Grand National, all bets are off.