Swansea shuffle: Where roster changes are likely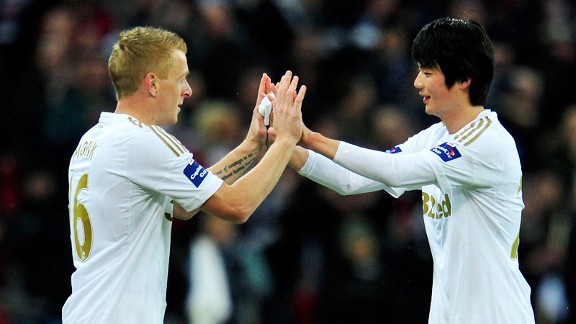 Glyn Kirk/AFP/Getty ImagesGarry Monk, left, seems poised to moving into a coaching role, while Ki Sung-Yueng's role could stay the same as Swansea make their roster changes.
Swansea assistant coach Alan Curtis threw a handful of grist into the rumour mill this week by stating that he expects the team to sign "four, maybe up to six players" in the summer.

Given that Michael Laudrup has a preference for working with a small squad -- typically a first eleven with one cover option per position for a total of 22 -- Curtis' statement might suggest that some players will leave the Liberty to accommodate the new signings.

Curtis added how the Swans "have to satisfy the players terms-wise", suggesting negotiations were fairly advanced with more than one potential new signing. Here's how the Swansea squad presently breaks down. I have not included any of the Swans prospects (such as Darnel Situ, Lee Lucas and so on) as Laudrup seems to count the youngsters as separate from his senior 22.

Goalkeepers
Michel Vorm; Gerhard Tremmel

Verdict: The Swans are set in goal. Vorm and Tremmel feature among the Premier League's statistically superior keepers this season, with Tremmel actually topping the save percentage chart. Rumours persist that Vorm might be poached by Barcelona or Arsenal, but I have doubts. Vorm's profile might have been raised since he joined Swansea, but he was hardly an unknown before, watching the World Cup final from the Dutch bench.

There is a reason Vorm has been overlooked by the world's elite. He is generously listed as 6 foot tall, and although his reflexes and agility are truly world-class, he can sometimes struggle with crosses. That single issue might be enough to keep Vorm in Swansea a while longer, although Arsenal in particular have put up with a lot worse over the years.

Full Backs
Angel Rangel; Dwight Tiendalli; Neil Taylor; Ben Davies

Verdict: Assuming Taylor's injury hasn't hurt his game, the Swans won't have to worry about left back. On the right, Rangel is a reliable key player, but it is surprising Tiendalli hasn't yet been offered a new contract. The Dutchman has been a solid acquisition, and is able to play both left and right back. His attack-minded game is a perfect complement to Laudrup's system. If Tiendalli is allowed to leave, it might indicate that the Swans have a new right back already lined up, as allowing a good player to leave with no plan B in place doesn't make sense. Jazz Richards?

Centre Backs
Ash Williams; Chico Flores; Kyle Bartley; Garry Monk; Alan Tate

Verdict: Tate is more or less gone. Although veteran Monk has done well in relief appearances this season, the smart money says the skipper moves into a coaching role this summer, leaving the Swans a man short. Laudrup's reluctance to give the raw Bartley serious playing time suggests Bartley needs more development, and while that might come before next season, bagging a new centre back has to be a priority.

Midfield
Leon Britton; Ki Sung-Yueng; Kemy Agustien; Mark Gower

Verdict: Gower is as good as gone, and although Jonathan de Guzman can (and often does) play deep midfield, he is more effective and more often used in the hole, where he has been listed. Truthfully, Ki would also benefit from being played further forward, but assuming the South Korean continues to feature in the deep role, the Swans are still at least a man short. Agustien's role in Laudrup's system is still unclear, so that might mean two players come in. At least one will have to have some physicality.

Attacking Mids
Michu; Jonathan de Guzman

Verdict: Wingers Wayne Routledge and Pablo Hernandez can also play in the hole, but I have listed them as wingers for simplicity. Michu thrives in this position, but has had to settle for playing striker, with de Guzman playing behind. If Swansea are unable to turn de Guzman's loan from Villareal into a permanent move, then they'll need a replacement. If the Swans lose de Guzman but find a starting striker, then Michu can have his favourite spot back and the likes of Routledge, Pablo and Ki can deputise.

Wingers
Pablo Hernandez; Wayne Routledge; Nathan Dyer; Roland Lamah

Verdict: The team is more or less set at wing, although serious injury could diminish Laudrup's options, especially with Pablo and Routledge occasionally leaned on to play centrally as well as out wide. Finding a winger who could also play striker might not be a bad idea.

Strikers
Luke Moore; Itay Shechter; Leroy Lita

Verdict: Having listed Michu elsewhere, the Swans are left with out-of-contract Moore and Lita and on-loan Shechter, none of whom will be with the side next season. This is surely where the Swans shopping list begins.

Looking at the breakdown, the Swans could use a central defender, at least one midfielder and a couple of strikers. Jose Canas? Iago Aspas? Time will tell.