Scrap-happy Swans rediscover spirit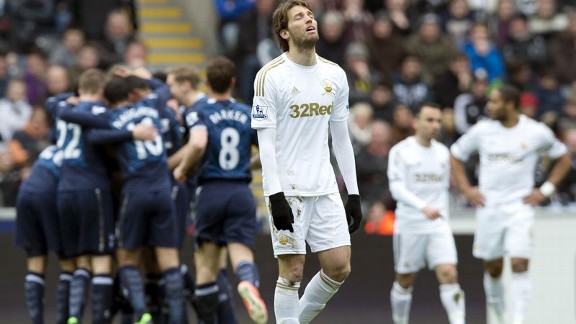 PA PhotosSwansea goalscorer Michu reacts as his side fell to defeat against Spurs
When Jan Vertonghen scored to give Spurs a one goal lead it was against the run of play, Swansea having enjoyed a composed start to the match and most of the possession over the first few minutes. The Spurs defender, playing at centre-half during Saturday's 2-1 win, had been allowed to run into the box from his own half, playing a long one-two with Gareth Bale along the way and applying a striker's finish, without being picked up by a Swansea player at any point.

- Fitch: Vertonghen shows Spurs now a two-man team
- Brassell: Spurs' left fires them back on track

Vertonghen was allowed so much freedom mostly because nobody expects a centre-half to do what he did; few teams even have a centre-half skilful enough to think about it in the first place, much less do it. Bale, who played a lovely return pass to set-up the goal from the hole, acted as a magnet for the Swans defence, opening an enormous space for his Belgian team-mate to exploit. Later, it would be Bale himself scoring, easing a long-range left-footed strike into the net with all the abandon of a player at a practice match.

After going down by two goals so early on and after what had been a promising start, the Swans almost slid into a collective sulk. Swansea might have shot their bolt early, reached a peak with the League Cup victory and hit a late-season malaise, their remaining fixtures looking about as inviting to these players as a full in-tray at 4pm on a summer afternoon.

Not so, however. After a few moments recovery from the shell-shock of being torn apart by the combination of an unexpectedly dangerous centre-half and British football's best player, the Swans started showing some of the mettle which has been lately lacking, closing the half very much in the ascendancy.

The turnaround was significant. Since the League Cup win, the Swans have shown a lack of interest, or at least a lack of spirit. Understandable perhaps, given there is little left for the side to achieve this season, but not acceptable for a side who still need to fight to hold their own amongst the best.

And fight they did. A consistent factor in recent underwhelming performances has been a lack of steel, especially in the middle of the park. Following Spurs early sucker-punches Swansea somehow managed to find a way to win most of the 50/50 battles even with a front four composed of out-and-out skill players.

The Swans' new-found will to scrap for the ball eventually paid off, Michu scoring his 20th goal of the season for Swansea from a Ki Sung-Yueng corner won through the sides sustained industry. Tottenham struggled to contain the Swans urgency, answering the threat with an endless series of mis-timed challenges, and both borderline and blatant fouls.

Referee Anthony Taylor's baffling decisions on more than one occasion to play advantage for Swansea when there clearly was none, denied the Swans any opportunity to punish Tottenham with their own set-piece specialists and did nothing to calm the game. In fact, Taylor could almost be accused of exposing the players to risk of injury, such was his apparent reluctance to blow his whistle for pretty much anything save for full time, which duly came after both benches had almost come to blows.

The Swans didn't win the game, but they did show some real character for the first time in weeks. What's important now is for the players to keep that intensity up for another seven games.

Final thoughts:

Positives: Good to see some hwyl for a change. Michel Vorm. Michu in a mean mood. Nathan Dyer's engine.

Negatives: Refereeing that should have come with a health warning. Vertonghen's villainy. Header-happy Luke Moore overlooked for Itey Shechter from the bench.