Pressure all on Spurs for trip to Swansea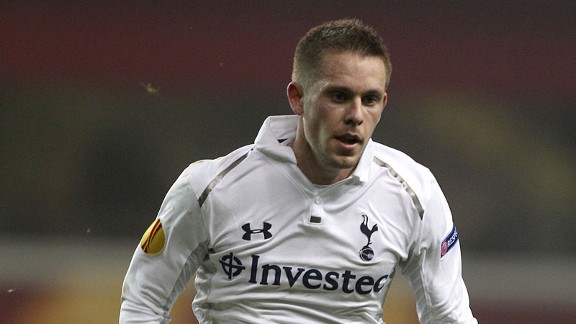 GettyImagesGylfi Sigurdsson will return to the Liberty Stadium with Spurs
With eight games still left to play, this season is already a success for Swansea City. Ostensibly all the team has to play for now is the difference between one or two places in the upper mid-table, but the Swans can still have a big say in other teams' fortunes.

- Fitch: Break a blessing or curse for Spurs?

With their own European participation for next season guaranteed, impending fixtures against higher placed clubs mean the Swans can have an impact on who else goes where - Champions League, Europa or bust.

The Swans new stint as a potential spoiler team starts on Saturday, when Andre Villas-Boas's Spurs come to town. Arsenal fans everywhere will be hoping for a Swans win, which would see their arch rivals drop three points and allow Arsenal - who already have a game in hand on Spurs - to get within a point of fourth place with a victory of their own.

Swansea, meanwhile, presently hold a middle ground in ninth place - four points behind eighth placed West Brom, four points clear of tenth placed Fulham. A win, or even a point, pushes Swansea into the discussion for finishing higher than ninth, ready to exploit any slip by West Brom or seventh place Liverpool. A loss - especially coupled with a Fulham win (they play QPR on Monday) might see Swansea in danger of sliding back a few places over the home stretch, especially given Fulham's game in hand over the Swans.

Whilst Saturday's result has obvious significance for Spurs, the game should also matter to Swansea, who would hate to let an otherwise hugely successful season end with a miserable late slide.

Neither side has exactly been on fire of late, and having suffered just their third home defeat of the season to Arsenal last time out, Swansea will want to re-assert the Liberty stadium as a tough place to visit.

Gareth Bale is almost always the first name mentioned in any conversation about Spurs; hopefully the Welshman can show a little more sportsmanship to his countrymen this time out after a somewhat balletic performance last season.

In fact, Bale and fellow Welshmen Ash Williams and Ben Davies of Swansea will want to atone for a disappointing result against Croatia with the national side during the recent World Cup qualifiers.

Saturday will also mark the return of Gylfi Sigurdsson to the Liberty. The Icelander was so instrumental in Swansea's success over the second half of last season, and although he seemed irreplaceable at the time, it is further tribute to Michael Laudrup that his Swans have gotten by just fine without him.

Sigurdsson's excellent freekicks might be a real threat if it weren't for Bale, who has an even deadlier dead ball ability, but Siggy's eye for a through-ball can still cause the Swans defence some problems, especially with the less mobile Garry Monk likely to start over the still ailing Chico Flores.

Tottenham have so far proven to be one of the tougher opponents for Swansea in the Premier League. Last season, Spurs won the London fixture 3-1 whilst it took arguably Swansea's best performance of the entire campaign to earn a 1-1 draw in Wales. In this season's London fixture, the Swans parked the bus and likely would have made it to 0-0 but for a late goal conceded from a set-piece.

I'd expect this game to be similarly tough. The sides match-up well, and as so many of the Spurs fans and players are used to reminding us, Tottenham are more than just a one-man team. It'll take something special from Laudrup's men to get the win, but then his side should be playing with the freedom of having already over-achieved.

The pressure is firmly on Tottenham this Saturday, but then such was the case with Arsenal in the last home game, and they got the result they came for.