Laudrup's pending dilemma at left-back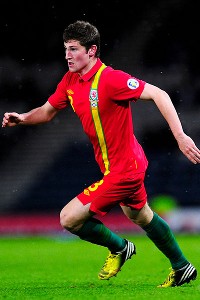 Stu Forster/Getty ImagesNeil Taylor's injury gave Ben Davies, above, a chance with Swansea. Taylor's return with give Swans manager Michael Laudrup a pleasant selection dilemma.
With Swansea's enviable slate of talented foreign players and sophisticated Danish manager, it is easy to forget that the Welsh side also features a few Welshmen, too. The Swans are blessed in particular at left back.

Understudy Ben Davies has taken the chance presented by starter Neil Taylor's horrific early-season injury and proven himself a more than capable replacement. It's a role he has also filled at international level, featuring in Friday's unexpected victory over Scotland.

While Davies, 19, has been maturing in short order playing Premier League football for Swansea City every week, Taylor has been behind the scenes, fighting to recover from a triple ankle fracture sustained in September.

Taylor has recently begun to play in Under-21 games for Swansea, and although there aren't enough league games left this season for Taylor to make much of an impact for the senior squad, Michael Laudrup will certainly have a selection dilemma next season.

With that in mind, here's a look at how players compare. I've used Davies's figures from this season and Taylor's from last.




When it comes to the players defensive duties, there isn't much to split them. The players are more or less equally matched in every department save for aerial contests, where Davies -- shorter by two inches -- actually has the edge. The players' passing stats are slightly more revealing.




Both players are again similarly matched in terms of passing and crossing accuracy; Davies is marginally the better crosser, Taylor the better passer. However, the pattern of distribution for each player is quite different.

At first glance, it might be easy to suggest that Taylor was the more offensive-minded player, with a significantly higher percentage of balls played forward (47 percent to 35). However, this is not so.

Taylor played under Brendan Rodgers, and although he enjoyed a small amount of license to get forward and supplement the attack, he typically stayed back. Therefore, more of his passes would logically be forward, for there would always be plenty of space (and Scott Sinclair) in front to pass to.

Davies is actually the more offensive-minded player. Under Laudrup's system, Davies is allowed to get forward as often as possible, shown by the huge number of passes (45 percent compared to 19) he aims right -- typically crosses and passes into the box from the left flank. Davies's re-invention as a surrogate winger is further demonstrated by his meagre 3 percent distribution to the left, the result of his touchline-hugging forward runs.

The players' attacking stats corroborate this.




Davies' greater freedom to dribble and cross is clear. It is interesting, however, that Taylor managed to create more chances than his counterpart, although the edge is slight.

That edge might be explained by Sinclair's occasionally selfish tendency to take balls supplied by Taylor and look for the shot (usually by cutting inside across the face of the penalty area) rather than the pass.

Davies's team-mates are more likely to overwork his cross or cut back instead of directly shooting, deferring what would count as a created chance for Davies onto the next player in the sequence of passes.

On the surface, it seems as though the major differences between the players are due to tactics rather than individual skill, which bodes well for Laudrup and the Swans. The Welsh left backs are virtually like-for-like, which ought to ensure some stability at the position during the course of next season's combined European and domestic adventures. It also means Laudrup has one less position to worry about in this summer's transfer market.