Inside track suits Routledge fine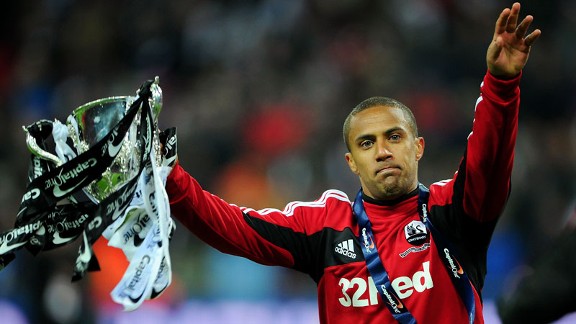 Michael Regan/Getty ImagesWayne Routledge has flourished in Michael Laudrup's system.
Since taking charge of Swansea, Michael Laudrup has exploited the transfer market to now-famous effect. However, the Swans' second season success has not only been down to new blood. Of the incumbent playing staff, Wayne Routledge might be considered Swansea's most improved player this season.

Routledge is one of British football's true journeymen -- Swansea City is the winger's ninth club. Former Swans boss Brendan Rodgers brought Routledge to Swansea in the summer following the club's promotion from the Championship. Adding players with experience is said to greatly improve a newly promoted side's chance of survival, and few come with more than Routledge.

He's officially listed as a winger, but versatile enough to play in the hole and can play either flank. He's been playing mostly on the left for Swansea, though in Laudrup's narrow attacking system, he'll drift inside a great deal. The Swans have more than a couple of gifted playmakers in their squad, but none can match Routledge's vision when he's on form.

Under Rodgers, Routledge played 42 percent of available Premier League minutes. Under Laudrup, Routledge has featured 71 percent of the time in league play. How that extra playing time has benefited the enigmatic winger:




Routledge's crossing and shooting accuracy is vastly superior this season -- and his improved shooting in particular has paid off. Routledge has five goals this season with eight more games to play; last season, he scored once (his first Premier League goal).

Routledge's significantly better accuracy might be the result of a change in training methods, but it seems more likely to be down to Laudrup's tactics.

With the Swans playing a much narrower attacking strategy this season, Routledge is more likely to find himself square on to the goal before taking a shot, instead of out wide at a tight angle. That's exactly why Laudrup likes his sides to play down the middle.




Our next chart seems to support the theory. Routledge's crosses-per-game are down by almost half this season. The stat is symptomatic of the system -- the result of Swans wingers playing inside instead of hugging the touchline, which is Ben Davies' and Angel Rangel's territory now.

Routledge is still a little gun-shy, not even averaging one shot per game, a shame given his impressive shooting accuracy. His dribbling is roughly on par with last season. However, his creativity has benefited from Laudrup's free-flowing, amorphous attacking system - Routledge is creating nearly two chances a game this season, compared with just over one the last.

Taken as a whole, the stats appear to indicate not just that Wayne Routledge is deserving of the extra time Laudrup is giving him, but that Laudrup's system itself is responsible for generating a greater number of scoring chances.

With a finisher like Michu on board, it's no wonder Laudrup's Swans have achieved so much. Last season, Swansea finished with 44 goals scored. They've already scored 40 this season with eight games to play.

It's certainly enough to question the embedded logic of the crossing game which has for so long typified British football (and very much still does at the lower-league level). Regardless, it looks as if Wayne Routledge has finally found a home and a system which suits him in South Wales.