Fatigue starting to tell on Swansea's small squad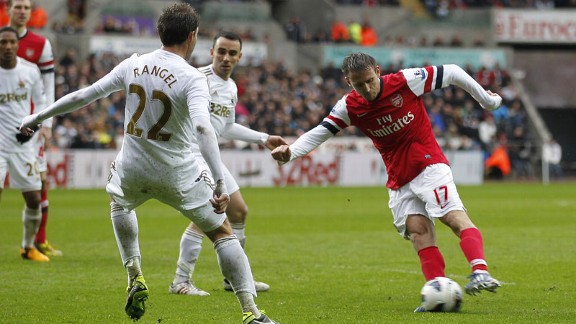 GettyImagesNacho Monreal put Arsenal into the lead against Swansea
What do Toni Basil, Norman Greenbaum and Swansea City have in common? They've only got one good 45. The Swans lost at home to Arsenal 2-0 and are developing a knack for starting well and fading fast after the interval.

- Mangan: Arsenal do the necessary

It's true that Arsenal had 'more to play for' in their 2-0 win, though I admit the concept leaves me cold. The best football happens for the love of playing, not for some other agenda, and shouldn't footballers be playing for love all the time? I'd do a lot worse things for love for half the money Swansea's poorest player earns. The Swans might be comfortable in the league table, but that's no excuse for phoning in a lacklustre performance for a third successive game.

There was one bright spot. After all my recent talk surrounding Ki Sung-Yueng, it was good to see the midfielder take a step up and put in his best performance for weeks. In the first half alone, Ki supplied three perfect through-balls and made a good defensive header to spoil an Arsenal corner. In the second he briefly took the game by the scruff of the neck after a prolonged spell of Arsenal possession and his hussle resulted in a turnover which indirectly led to a shot from Pablo. On another day, Ki might be sitting pretty on a couple of assists.

A lot of Ki's best moments came when he pushed forwards, virtually playing in the hole at times and offering further evidence that he might have a lot more to offer if deployed in an advanced position. With Jonathan de Guzman able to play as deep as Ki, I don't see why Michael Laudrup can't reverse the players for a game - put Ki in the hole and De Guzman deep. It would certainly help to stimulate the Swans creativity, and offer opponents a combination they might not have planned for.

On the evidence of Saturday's game, where the Swans didn't force a single save from the Arsenal 'keeper, a few new ideas might have helped. It was baffling then when Laudrup chose to substitute Ki in the 66th minute given the game he was having. Pablo had another match to forget - the second in a row - and looks like a man out of sync and in need of a rest. It might have made more sense for Wayne Routledge to have come on at the expense of the Spaniard instead.

Routledge himself wasn't able to influence the game in any meaningful way either, playing in a fairly central role when Ben Davies could have used some help on the left flank to stop Carl Jenkinson. The Arsenal-right back was dominant all game and allowed to come forward at will. Having to contend with a player of Routledge's cunning would have kept Jenkinson honest, but he was destined instead to enjoy as easy a ride as the rest of his team-mates.

Fatigue seems to be an obvious issue. It's to be expected of course with a small squad, but this is a side that will be playing in Europe next season as well. Laudrup has spoken of his preference for small squads, and in principle I would agree - provided the entire squad is being used. At present, decent players like Dwight Tiendalli and Roland Lamah are kept on the bench. With the 'best' first XI consistently faltering, and the Swans comfortable in the league, wouldn't now be a great time to start those players instead?

This Swans side are uncharacteristically throwing results away at the moment. It would make more sense to lose a game whilst trying out new players and new ideas in preparation for next season's challenges than it does to over-work the same 13 or 14 players until they no longer look interested in being on the field. With a very tough schedule ahead, I can't see much in the way of rotation coming, but something has to change because even Michu is starting to look ordinary, and I never thought I'd say that.

Final Thoughts :

Positives : Strong start. Good game from Ki.

Negatives : Weak second half, again. Questionable substitutions.