Disgraceful Swans denied salvation by linesman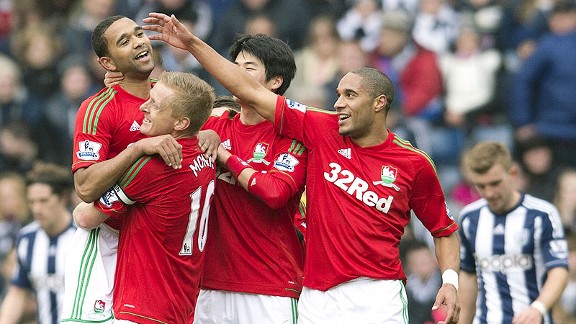 ADRIAN DENNIS/AFP/Getty ImagesSwansea's early celebration was short-lived as West Brom came back and took all three points off the Swans.
Swansea dropped points from a winning position for just the second time this season in a 2-1 loss to West Bromwich Albion at the Hawthorns.

- Match report: West Brom 2-1 Swansea

If this season's first meeting between these sides had produced the best Swansea City performance in recent memory, this game was almost the opposite. The second half in particular was an atrocious display of careless, disinterested football from the Swans, who allowed their opponents to take full control for the majority of the remainder of the game.

There has been some talk about whether the Swans would coast for the rest of this season having reached 40 points, won a trophy and secured European football for next season. On the evidence of a disjointed performance last week against Newcastle which the Swans were lucky to win, the jury was still out. On today's evidence, those suspicions are starting to look justified.

Of course, the big talking point in the game was the linesman's incorrect decision to rule out what would have been Roland Lamah's first Swansea goal for offside. Replays have shown that Lamah couldn't have been more onside if he were Michael Vorm. The goal would have been important -- a late equalizer which would have given the Swans a point and denied their closest rival in the league table an extra two.

An argument could be made that the Swans didn't 'deserve' anything out of this game anyway, but that's beside the point. A goal is a goal and it should have stood. Goal line technology might be coming to the Premier League next season, but this is just another incident which highlights how far football's top leagues trail behind the likes of the NFL and NHL in terms of using technology to aid its officials.

FIFA's long-running reluctance to embrace video technology is as baffling and indefensible as today's decision from the linesman, who could barely see what happened and yet was allowed to make a game-changing call. The officials have a hard enough time of things as it is, but when video can show the truth before the ball is even back in play, the argument against using technology goes out the window. It has to come and the sooner the better.

West Brom's goals were considerably less controversial, and both should have given Michael Laudrup good reason to start Kyle Bartley over Garry Monk in the future. Albion's first came from the route one playbook -- a goal kick found a winger who crossed for a striker who duly scored.

The long ball from the 'keeper caught Swans fullback Ben Davies upfield, which meant centre back Ash Williams had to cover the winger. This, in turn, left Monk alone with Romelu Lukaku, which is a bit like asking Peter Dinklage to wrestle Andre the Giant; although, at least Dinklage would have had something sassy and fantastic to say to ease the pain.

Albion's second came from a set piece, and once again Monk was exposed as he was comfortably beaten in the air by the taller Gareth McAuley. Although McAuley's header was cleared off the line by Angel Rangel only to carom back off De Guzman, the entire debacle could have been avoided had the Swans fielded a centre back who could match Albion's aerial threat. Someone like, say, Bartley.

Bartley might still be a little tactically naive, but he is tall, physical and athletic -- three words you won't find on Monk's c.v. Bartley isn't just tall, either -- he's actually fantastic in the air, and offers a scoring threat from set pieces. Bartley's not going to get much better without competitive game time, and if the rest of his teammates appear content to coast now this season's initial targets have been reached, Bartley might at least inject some youthful enthusiasm into the side.

The Swans have to face the Premier League's top five teams over the home stretch. This run of casual, careless football might only be two games old, but it needs to stop now. Liverpool might have humiliated what was in effect a Swansea 'B' team with a five goal thrashing recently. Any more of today's second half football from Swansea and it won't be long before a really dangerous side puts five goals past the first team, too.

Final thoughts:

Positives: Vorm's penalty stop. Luke Moore making the most of a rare start. The first half was reasonable.

Negatives: Embarrassing second half. No steel in midfield. Monk over Bartley. Waiting until the 85th minute to even try to play football.