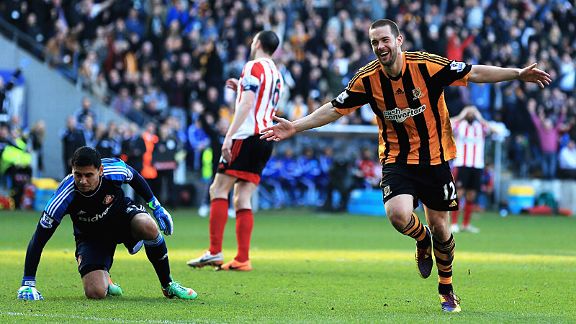 GettyImagesMatty Fryatt couldn't believe his luck after Lee Cattermole's back-pass presented the striker will Hull's third goal.
No great powers of imagination are needed to work out what is likely to go on in any opposing team's dressing room once Sunderland name Lee Cattermole in the starting line-up.

"If he goes anywhere near you, fall over as dramatically as you can," the manager or head coach will urge his players. "If he is not booked or sent off straight away, do anything you can short of physical assault or verbal abuse to persuade the referee to produce a card."

- Buckingham: Hull are off to Wembley

Once booked -- as he was in the FA Cup quarterfinal that ended Hull City 3-0 Sunderland -- Cattermole is both diminished as a player and a liability to his team. Continue Reading...