Bidding for Danny Graham: when signing for Sunderland means crossing a tribal divide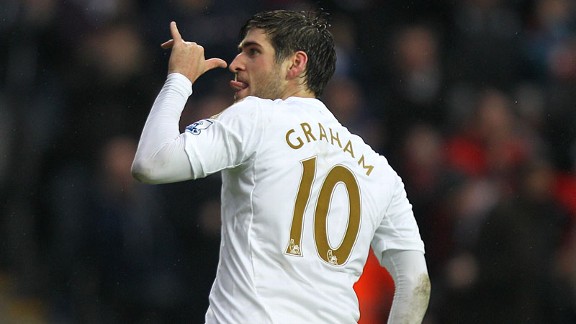 EmpicsDanny Graham: A Newcastle fan linked with Sunderland
On Sunderland's reported bid for the Swansea striker Danny Graham, scorer of that second goal in the Capital One Cup semi-final first leg at Chelsea, I have no inside track.

In days when I did have a source, and a very good if cautious one at that, I was persuaded that in every list of 10 players linked with the club in reports, nine were likely to be utterly bogus. And there was a separate, undisclosed and much shorter list: players the club had indeed targeted without the least word of it getting out.

The process seems to be slightly more transparent now. If I am not deluding myself, there are not quite so many wild pieces of speculation. Martin O'Neill's pursuit last summer of Steven Fletcher, Adam Johnson and even Carlos Cuellar was in the public domain long before deals were struck. I seem to recall the departure of Jordan Henderson being played out in public for weeks, each twist in the tale captured as in a TV soap. And it has been no great surprise in the January window to see O'Neill land Alfred N'Diaye or, on loan, Kader Mangane.

So I suspect an offer has been made, as reported, for Graham.

And yet, if I am not mistaken, there has been as much comment among Sunderland supporters about his personal allegiance to Newcastle United as about his potential worth at the Stadium of Light.

Graham was once quoted as saying he would never want to play for Sunderland, or words to that effect. Look him up on the internet and you soon reach this Sunderland fan's comment: "Danny Graham is a born and bred Mag and he really doesn't like us."

"Don't sign Graham Danny Graham," read a tweet as news of the reported bid spread. "I just don't think you understand, if you sign Danny Graham, you're gonna have a riot on your hands!"

I am all for banter and engage in it myself. Sunderland and Newcastle supporters will always mock one another, pray for their own team to be the North East's top dog at the other's expense and generally act like children, applauding the other club's failures, lamenting the successes. But when it goes beyond playground levels of bickering, it can get nasty.

Leave aside the oafs who would settle their scores with violence. Even on a non-violent level, certain intelligent people of my acquaintance get so worked up by the Wear-Tyne rivalry that they lose touch with reality - one part of that reality being that people from each camp have far more in common than divides them.

As Michael Hudson, a thoughtful, Newcastle-supporting contributor to Salut! Sunderland's view-from-the-other-side feature, "Who are You?", once put it: "It's great that there's genuine passion behind the derby but there's been no excuse for violence between the two cities since Parliament won the Civil War."

Think back. Lee Clark was an out-and-out Newcastle lad, a supporter from boyhood. Peter Reid once joked - I used the verb advisedly - that it took the fifth bottle of champagne to persuade him to enter enemy territory and sign. And when he did? He played his heart out in a highly successful, promotion-winning team before, it must be added, leaving the club after being photographed when attending Newcastle's 1998 FA Cup final wearing a T-shirt mocking Sunderland.

Don Hutchison was also a Magpie. I remember him with admiration in red and white stripes. Didn't he kiss the badge on his shirt after scoring for Sunderland at St James' Park. In the present squad, Jack Colback is a North Tyneside lad and therefore a natural United supporter by birth but can anyone seriously claim that he ever gives less than 100 per cent for the rival club?

Other examples abound of players who have been professional enough to overcome tribal loyalty and play to the best of their abilities despite it being for a team they would, as boyhood fans, have despised or purported to despise. There is a relatively recent example of a player whose actions in a derby game suggested he had failed to show such professionalism: the exception, I would argue, to prove the rule.

Yes, I know Len Shackleton, who played for both clubs, is revered on Wearside and in the Sunderland-supporting catchment area of County Durham for his famous remark: "I'm not biased when it comes to Newcastle - I don't care who beats them!" But that can be filed away under Acceptable Banter.

If Danny Graham signs for Sunderland, and proceeds to be an effective member of O'Neill's squad, I will offer no complaints about what goes on in his head and his heart when watching Newcastle United play until and unless that affects how he performs for Sunderland.

But I am glad to report that time spent on Twitter reveals common sense, too. "If Danny Graham puts on a Sunderland shirt, gives 100%, and scores a few goals," wrote one Sunderland supporter, "will it really matter who he supports?"