Out-of-favour Vaughan stakes a powerful claim
After a comprehensive home win in which every member of the Sunderland team did his job, the upbeat response is to look forward to a steady rise up the league table and a strong FA Cup run, culminating in a top ten finish and Wembley.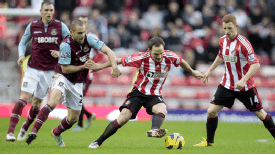 GettyImagesDavid Vaughan is an international colleague of Gareth Bale
If that sounds implausibly optimistic, remember that passionate supporters live for the kind of afternoon Sunderland fans enjoyed on Saturday, and the implausible optimism that, however briefly, follows. There was attractive, committed football throughout - along with three well-taken goals, the first of them the classiest of strikes by Seb Larsson, and an overall dominance that might have brought an even more emphatic scoreline.

Winning undoubtedly raises confidence and Sunderland should be able to move on from the 3-0 defeat of West Ham to reach the FA Cup fourth round by beating Bolton Wanderers in Tuesday night's replay and then take seven points from the next three Premier League games - away days at Wigan and Reading sandwiching a home game against Swansea.

But Martin O'Neill was the first to acknowledge that his team remained in a relegation scrap. One victory over lamentable opposition - unrecognisable from the side that had held Manchester United in the Cup - does not suddenly transform a team that has blown hot but mostly cold all season into world-beaters. Six wins in 22 league games is still well beneath the expectations nurtured by most supporters back in August.

Dare those supporters hope, all the same, that the corner has finally been turned?

A follow-up win at Wigan on Saturday, especially if accompanied by safe passage into the next round of the FA Cup, would suggest a positive answer to my question. But neither is likely to be achieved unless Saturday's momentum can be maintained.

One of the most uplifting features of the game against the Hammers was the pace shown on the counter-attack. The second goal was the most striking example, Stephane Sessegnon's forward burst and glorious pass to James McClean setting up the shot, blocked by Jussi Jaaskelainen, that led to a scramble and Adam Johnson's hooked finish.

Steven Fletcher, for once, did not score but his tireless work, constantly bringing others into the fray, caused the West Ham defence numerous problems. Alfred N'Diaye's debut, as a substitute, began with a shot that went within inches of giving him instant cult-hero status.

But the most noteworthy performance of all came from an overlooked squad player. Not so long ago, Sunderland put in a similarly strong home display, creating bags of chances, only to lose. The winners that day, two years ago, were Blackpool and one of the reasons they won, apart from Sunderland's wastefulness in front of goal, was David Vaughan's excellence in the visitors' midfield.

He was the Man of the Match again on Saturday, this time for Sunderland. Sessegnon ran him close - he would be playing Champions League football if only he could finish better - as did Titus Bramble. I shouted at Bramble once, when a poor vertical header in the first half put Sunderland under unnecessary pressure, but he was otherwise sound.

Vaughan wins the vote for the tenacity, ball retention and distribution that gave the midfield rare strength and purpose. As a friend put it, a man who had inexplicably failed to start a Premier League game all season "looked like the player who destroyed us in December 2010". Let us hope O'Neill, doubtless unable to forget - and perhaps unable to forgive - the ghastly own goal that helped put Sunderland out of the FA Cup against Everton last season, saw it as more than a window display.

Some words of commiseration for the West Ham support are also appropriate.

Away fans are now banished to the upper section of the north stand at the Stadium of Light, still a significant improvement on what Sunderland fans routinely put up with at grounds from St James' Park to Upton Park. On a cold January day, the travelling East Enders gave a heartening level of encouragement despite the wretchedness of their team. I know what it is like to cover hundreds of miles and wonder whether the effort was worth it, so hats off to the Hammers.