Memo to Sunderland fans: Lay off Suarez, concentrate on other Merseyside bogeymen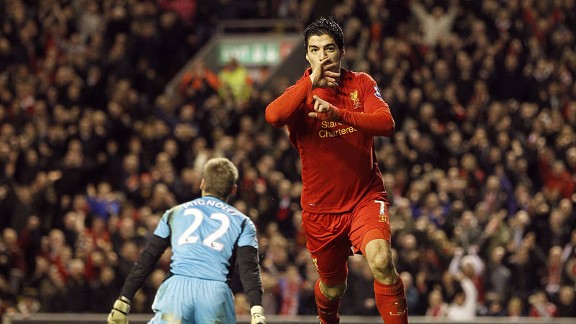 GettyImagesLuis Suarez celebrates cutting Sunderland to shreds last week
Andre Marriner's mother is said to have telephoned with a maternal rebuke when he made the harsh decision to show a straight red to Michael Turner, then a Sunderland player, in Mark Hughes's last game in charge of Manchester City.

- Walsh: Suarez unfairly plays villain role

We must assume the entire family, indeed every Marriner in the land, has by now called him to ask why on earth he allowed Luis Suarez to get away with a respectable impression of a basketball player as he controlled the ball with his raised hand before kicking it - sheepishly I thought - into the net at Mansfield this weekend.

Sunderland corners of Twitterland were awash with choice abuse of Suarez for some time after this refereeing howler effectively ended the home side's valiant hopes that an exhilaratingly plucky second half would at least take Liverpool back to Anfield for a replay.

Support for the underdog would be reason enough to explain that reaction even if there were not the powerful added ingredients of Suarez's status as the pantomime villain of Premier football and unhealed wounds from the leading part he played in cutting a distinctly unplucky Sunderland to shreds a few nights earlier.

Sometimes I think one of the worst developments in football would be the elimination, by technological means or through referees developing saintly qualities, of errors by match officials. What would we do without such a reliable source of talking points?

But surrounded by all those anti-Suarez tweets from Sunderland supporters was a beacon of commonsense, a fan pointing out the self-evident truth that no professional footballer would have owned up in such circumstances. The theme was repeated elsewhere, not least in Gordon Strachan's comment that if you get away with parking illegally, you do not ring the council to say you owe them £85.

I happen to believe Suarez probably did not, on this occasion, handle deliberately; he may well have been expecting, in common with almost everyone watching, Marriner to disallow the goal on the basis that his hand was in such an irregular position that even its innocent use had brought dramatically unfair advantage.

The opposite view seems such a denial of natural justice that the decision makes itself. To maintain this spirit of charity towards the Uruguayan striker, his later gestures may, in his own clumsy way, have been honest recognition of the unlawful manner of his goal.

But it was not his fault that the goal was granted, and it was not his responsibility to approach the referee and plead with him to award a free-kick to Mansfield. For it to be otherwise, we would need comprehensive rethinking of the rules of gentlemanly conduct affecting not just one easy target from overseas but every player in football.

And great debating issue though it may be, Marriner's mistake at work - and we all make them - is the least of Sunderland's Merseyside worries. The heartening fight back at the Reebok keeps alive the dream that, 40 years on from the glorious FA Cup final triumph over Leeds, Martin O'Neill can emulate Bob Stokoe and reach Wembley.

If the 2-0 lead into which Bolton Wanderers sailed on Saturday presented one stiff obstacle to realisation of the dream, overcome by the Connor Wickham poke and Craig Gardner rocket, the draw for Fourth Round brings another. Unless Cheltenham do what Mansfield could not, and beat fancied Premier opposition, Sunderland's opponents - assuming Bolton can be beaten in the replay - will be Everton.

It is fair to say Everton have become a bogey team for Sunderland. A rare avoidance of defeat at Goodison, in the FA Cup last season, brought hope that the mould could be broken; Everton had other ideas and swept aside the home team at the Stadium of Light in such imperious fashion that Sunderland's season never really recovered.

So home advantage may, once again, be no advantage at all. An emphatic improvement on the way Sunderland have played for most of this season will be essential if they are appear in the fifth round draw.

It would be a huge shame if Sunderland completed the job against Bolton only to fail yet again to emerge from a game against Everton without a win.

Avoiding defeat at Bolton was reward for the players' resilience. It was an even more deserved outcome for the 5,000 travelling supporters.

Sadly, that impressive figure meant only 7,204 Bolton fans bothered to attend a supposedly attractive game against Premier League opponents. Now, the town of Bolton has suffered no more grievously from economic woes than Sunderland and its County Durham catchment area.

I do not suppose for a second that the replay will produce a bumper gate. It will still be a lot higher than 12,204 and no more than a few hundred of them, at most, are likely to be Wanderers supporters. Is it reasonable to say that with such a feeble home turn-out, Bolton does not deserve a cup run, let alone renewed top-flight status.