Duty and entitlement: deeper end of the Bale diving row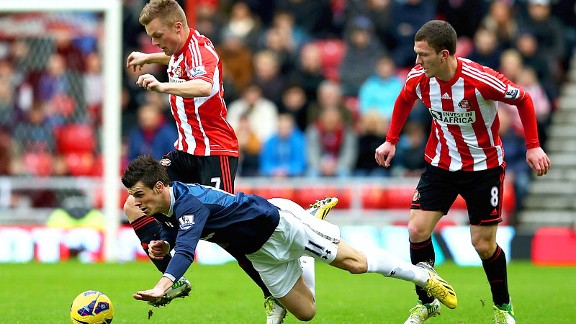 Matthew Lewis/Getty ImagesGareth Bale's latest yellow card for simulation has triggered a larger debate about diving
In the furore over Gareth Bale's latest yellow card for simulation, it has escaped the attention of some the case highlights an issue that goes far deeper than a simple matter of "did he or didn't he?" The future of the game, or at any rate the future of interest in the game from a sizeable minority, may also be at stake.

We can safely strip away all the polemic generated by the most recent caution for Bale Saturday at Sunderland.

Tottenham manager Andre Villas-Boas has made his point, with admirable restraint, and rival sets of supporters have had their say. The pundits have weighed in, too, mostly on the player's side, though there remains some dissent despite their access to repeated, comfortable viewings of the incident.

My initial response, from row 12 in the West Stand at the Stadium of Light, was that this was a further example of an outstanding player damaging his reputation with theatrical gestures following, or even preceding, minimal or self-initiated contact. This interpretation has been supported and challenged, robustly, on these pages and at Salut! Sunderland, and few of us will have changed our minds.

As a measure of the intensity of the debate, it is necessary only to consider the respectable difference of opinion of expert columnists at one newspaper, the Daily Mail.

Graham Poll, who deserves high respect as top-class former referee despite the unfortunate three-card trick that ended his international career, is convinced Mark Atkinson got the decision right, saying: " . . . there is contact but only after Bale's leg is crumbling." Jamie Redknapp, a couple of pages later, reaches a contrary verdict but with sufficient dignity to rise above suspicion of Spurs bias.

There are at least three explanations of the incident: the player dived, he was fouled by Craig Gardner or he neither dived nor was fouled. But the reality is that only Gareth Bale knows where the truth lies.

And even that knowledge is influenced by his freely stated belief, which gets close to the obnoxious mantra in studio discussions that footballers are "entitled" to go down when challenged: "If there is contact then I'll fall over. What do you expect me to do - hit my head on the floor? I put my hands down to protect myself."

At least he did not use the e-word. But it was heard rather a lot on television. Let us be clear about this. No player is "entitled" to go down. The choice of word suggests an attempt to sway match officials. Falling as a result of an unfair challenge should not be something a player does as an expression of entitlement or to "make sure", but a purely involuntary act.

The manner of a fall may involve an element of self-protection but hitting the ground as dramatically as Bale did, and has done before, inevitably causes people to question the motivation.

As I have argued when accused of partisanship by equally partisan critics, this is not really about Bale, Luis Suarez, Ashley Young or other individual players who have been accused of embracing the art of diving as if guided by coaching manuals. It is about the game of football and the way we want it to be played. We are either against cheating or accept it as normal and acceptable.

Consider this exchange, taken from an interview I conducted with Neil Atkinson, presenter of the Anfield Wrap podcast, ahead of the Sunderland visit to Liverpool:

Q: Suarez finally got a penalty and it was as clear-cut as any but he has a dreadful reputation for diving which may well have cost you points. For all that, has the time come to accept cheating as part of the modern game?

A: 'Cheating' has always been part of football. We all 'cheat' when we play football all the time. We always have. You appeal for things that aren't yours, you commit fouls, you go down easily. This is at park level. The idea that there is good 'cheating' and bad 'cheating' is intellectually weak. Lance Armstrong is a cheat. Luis Suarez is someone looking for an advantage in an equal contest against an opponent with a neutral referee. English football twisting itself into overly masculinised knots and turning the virtue of cleverness into a vice to be suspicious of has long been a symptom of a wider illness within the national game. I also think that most match going supporters are aware that their players all 'cheat'. It is the neutral Super Sunday crowd that place a moral aspect on the game that simply isn't there. No one accuses bowlers who ask for LBW when it clearly wasn't of 'cheating'.

Am I alone if finding that a profoundly depressing attitude? I happen to believe Stephane Sessegnon, arguably Sunderland's best player, occasionally "goes down too easily", in other words dives to exaggerate or simulate a foul. Far from condoning it with a knowing wink, I wince. Last season, I wrote of my dismay when Seb Larsson "won" a penalty at Wolves, one he then missed to serve the cause of natural justice.

If it is now regarded as soft to despise cheating - which also includes the odious but routine practice of feigning injury in an attempt to have opponents booked or sent off - then I am not sure this is a game I can continue to follow with same passion that has inspired me through many decades.

It is perhaps hopelessly idealistic, but may I commend to players and managers a draft New Year's resolution to make winning honesty an unconditional virtue?