Sunderland just can't stop helping the United half of Manchester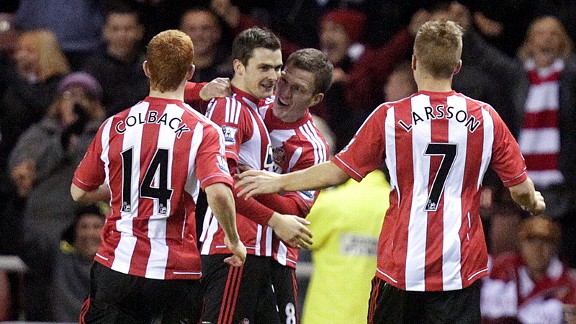 Graham Stuart/AFP/Getty ImagesA superb all-around team performance lifted Sunderland past title contenders Manchester City.
So Manchester United scraped a 4-3 win over Newcastle United while Sunderland again demonstrated to Manchester City the virtues of scoring and defending resolutely. Now we must sit back and prepare for a procession of United players, officials and supporters anxious to repent their past humourlessness and acclaim the pluck and steely resolve of one of those northeastern clubs.

- O'Neill delighted to beat "terrific" City
- Match report: Sunderland 1-0 Manchester City

Sir Alex Ferguson, who must surely have calmed down after his embarrassing antics at the start of the second half at Old Trafford, will be only too ready to recognise the small debt he owes to Sunderland.

And all those United supporters who came from near and far, even more embarrassingly, to whinge about the Poznan prank (supporters mocking other supporters, as tends to happen), will be quick to follow his lead.

As one they will be crying: "Thank you Sunderland from the bottom of our hearts for ensuring we have left City behind at the top of the Premier table and now have a seven-point cushion."

To no one's surprise, I am not expecting to be trampled in the stampede.

But what a wonderful Boxing Day for supporters of Sunderland. As Jake, the man whose eye-catching graphics capture the ups and downs of Martin O'Neill's team, wrote from his Spanish exile: "Magnifico! Can we call ourselves Man City's bogey team?"

After taking four points from City last season -- it really, really ought to have been six -- Sunderland's third successive 1-0 home victory over the champions suggests that this is a club that is happy to help United out when it matters.

But it had nothing to do with poking noses into Manchester's tribal battle. It had everything to do with Sunderland's will to win. Once again, driven by some of the most passionate fans in the game, they showed a capacity to produce a great performance. Remember not only the win and draw against City last season but also that 3-0 romp to victory at Stamford Bridge -- Steve Bruce's finest hour-and-a-half as manager -- among recent examples.

And I find myself tucking, with relish, into a large helping of humble pie. Despite my doubts after a poor start to the season, O'Neill has led his team not only to another famous triumph over the moneyed and mighty, he has taken nine points from 12 in a sequence where sceptics feared three, or even one, a more likely haul.

Moreover, a man whose subdued start to his Sunderland career has drawn much criticism has played the fullest of parts in this run. Arise Adam Johnson. What a morale booster it must have been to score the winner against Man City, a club so well-endowed that his services were considered expendable.

O'Neill knows there is more work to be done. But he is entitled to the thrill he feels - "the players were brilliant from start to finish" -- after a terrific all-round team performance that lifts Sunderland well clear of the relegation zone and augurs well for difficult games to come.