No fairytales as midwinter looks bleak for Sunderland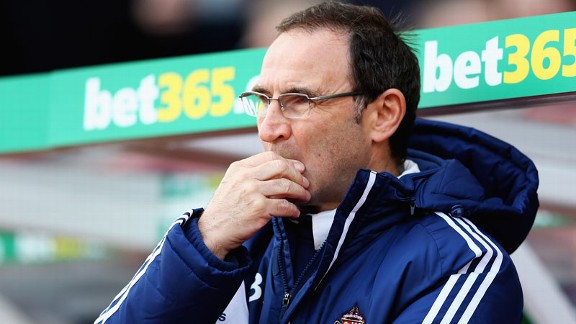 GettyImagesSunderland are in the market for new faces in the January transfer window, Martin O'Neill has confirmed
Christmas has many splendid traditions but also one or two designed to provoke an outbreak of Bah Humbugs from football supporters: being press-ganged into helping with the shopping or dragged off to the pantomime just when they'd rather be watching or somehow following a game.

So it was when Sunderland visited Manchester United and I found myself worrying about the possibility of a heavy defeat while laughing at the corny antics and gags of Priscilla Presley and company in Snow White and the Seven Dwarfs at the New Wimbledon Theatre. Sickness had struck and we were down to six dwarfs; Sir Alex Ferguson, alas, had a full complement of top-quality footballers.



For the fairytale theme to extend to Old Trafford, John O'Shea, Phil Bardsley and Louis Saha would have been cast as plucky heroes returning to a former workplace to help their present employers to improbable victory.

But even the Brothers Grimm would have found that a shade far-fetched and the game kept to a much more familiar storyline. Bardsley was absent through injury, Saha languished on the bench and O'Shea's shin provided an accidental assist for Robin Van Persie's opening goal. Tom Cleverley and Wayne Rooney proceeded to put the outcome beyond much doubt.

There was a United connection later when Fraizer Campbell, a product of the Old Trafford youth academy making one of his occasional walk-on roles in the pantomime of Sunderland's season, headed a consolation goal to give the result a respectable gloss.

For the second time in three games, Sunderland had gone three down before mustering the resources to appear serious competitors. The late flurry was mildly encouraging but the defeat, however inevitable, leaves the club in dire straits with tough matches lying ahead at Southampton, home to Manchester City and Tottenham Hotspur and away to Liverpool before the transfer window and FA Cup intervene in the New Year.

There are two ways of looking at events at Old Trafford (in fact, there is a third but that would involve resurrecting the entertaining but idiotic Poznan saga).

On one reading of the game, 3-1 was deeply generous to Sunderland given how often United carved out first-half openings; "when Tom Cleverley scored the second," Pete Sixsmith wrote at Salut! Sunderland, "I thought there was a chance that the hiding administered to Ipswich Town a few years ago (9-0) was on."

On another, Martin O'Neill's injury-weakened side deserved credit. "We lost 3-1 away to the best team in the country," another supporter pointed out, appealing for a little perspective. "Three out of four of our first-choice defence were out injured, as was our captain. Even at three-nil down we kept going, scored a goal and could easily have had one or two more. It's no disgrace."

Both points of view have merit. Pete sees Sunderland almost every week and has been a harsh but hardly unreasonable critic all season. But O'Neill has also had an unfair share of bad luck and a few points have been squandered in games the club should have won or drawn.

Even so, the quality of football has been consistently poor. As welcome as the 3-0 win against Reading was last week, this was still a display many found unconvincing and it would be delusional to overlook the weakness of the opposition.

Last season's finish of 13th top, which is also eighth bottom, was a great disappointment after the terrific start to O'Neill's managership. It was three places lower than the much-derided Steve Bruce had managed a year earlier. Yet it was higher than many of us now dare to hope for this season.

And where is O'Neill reported to be looking as he attempts to strengthen his side even before the window opens? Down the east coast for a recall of the Irish midfielder David Meyler who has been impressive for the same Steve Bruce while on loan to Hull City. That would be a useful move but O'Neill knows better than anyone how much more may be needed before that promise he made after the 2-1 defeat at Everton on November 10 - "we'll come good" - can begin to look fulfillable.