As Sunderland face mighty Manchester United, Poznan causes sense of humour breakdown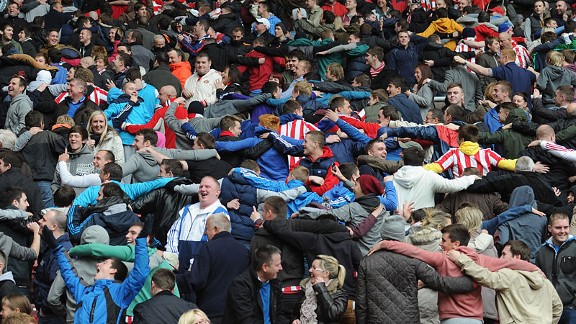 GettyImagesSunderland fans celebrate Manchester City beating Manchester United to the Premier League title by doing the Poznan.
Hundreds of hospital wards, we are told, have been closed by the spread of Norovirus.

But another nasty bug - the Poznan virus - is doing the rounds and has affected worrying numbers of Manchester United supporters who have gone down with distressing symptoms ranging from gross over-reaction and humourlessness to an irrational desire for vengeance.

Fortunately for those whose responsibility it is to cope with this outbreak, the cause has already been identified: lingering United anger at the Poznan-style mockery indulged in by some supporters of Sunderland, to the amusement of many more (and neutrals), at the end of the final game of last season at the Stadium of Light.

United had won the game 1-0 - no surprise there, then - and United left the field thinking themselves Premier League champions.

But late news from the Etihad, where Manchester City had come from behind in sensational fashion, equalising and then winning (against QPR) in stoppage time to claim the title, abruptly halted one sort of celebration in the away end and prompted another among home fans.

Typical club-on-club banter? A bit of innocent fun, unappreciated on the day but quickly forgotten? Not in the eyes of everyone.

Wayne Rooney led the charge: "When the final whistle went, we didn't really know what the score at City was. But then we heard the Sunderland fans cheering. It was sad to see that because they should be supporting their own team really. They didn't have the best of seasons so for them to be cheering like that was sad. It was something myself and a lot of the players won't forget."

And the theme has been followed relentlessly by followers of Rooney's club, most of them naturally accustomed to a culture of expecting to win pretty much every game, triumph in every competition entered.

For some, thrashing Sunderland at Old Trafford on Saturday would not be, as is more common, just another day at the office. It would deliver the revenge so dearly sought.

At his Man Utd fan site Republik of Mancunia, my electronic friend Scott the Red quoted more of Rooney's thoughts, this time from his autobiography (using the "auto" part of that word in the loosest sense): "I don't know where I will play the previous games before it, I just want to play against Sunderland. When the fixtures come out I look for three games - City, Liverpool and Everton. This time I checked the Sunderland game. If there is one team that I want to beat this season it will be Sunderland."

Answering questions at Salut! Sunderland, Scott explained that the episode had removed his soft spot for Sunderland. "... after your fans celebrated City's title win last season, I don't have much time for Sunderland. In all honesty, I hope you get relegated."

The responses at Scott's site, along with countless Twitter messages, suggest his view is widely held by the United faithful.

Among the more restrained offerings (I have tidied up the English): "I just hope Utd teaches those guys a few manners", "their fans do not deserve a Premier League team", "finally! Been looking forward to this game since May. Couldn't care less about SAFC as a club so you might think I wouldn't be to bothered, but gawd I detest Sunderland fans", "always fancy us to score, but frankly hoping we put up a Rugby score line for this one. 9 - nil".

Could these be the same United supporters who mocked Sunderland during the woeful 15-point and 19-point relegation seasons of the last decade? Perhaps not; maybe we are dealing with altogether more sensitive souls who really ought to be up in the hospitality suites munching those prawn sandwiches - Roy Keane's baffling idea of culinary elitism - and offering polite applause when exciting things happen on the field of play.

But in the broader scheme of things, is it not slightly pathetic to hold a grudge when ultimately harmless taunting is inspired by such a dramatic turn of events as occurred on May 13?

One United supporter rebuked my response to that effect and also complained that Sunderland supporters resorted to chants about the Munich air disaster.

Now there, as I was quick to acknowledge, would be real cause for offence. To glory in disaster is scandalous and probably deserves not only contempt but serious punishment.

I can honestly say I have not been aware of such abominable behaviour in the many games between Sunderland and United that I have attended over a period approaching half a century. Equally, I do not dispute the possibility that it has happened; it does not require saintly qualities to recognise that every club has a proportion of mindless oafs within its support.

But what occurred in May is staggeringly trivial and has no place in the memories of supporters of one of the greatest football clubs in the history of the game.

Forgive me for taking it as the deepest of honours if it is genuinely the case that Wayne Rooney and Manchester United need such motivation, months later, to feel able to beat Sunderland. And to those poor Poznan sufferers: get well soon.