Savour the victory, Sunderland, but don't get carried away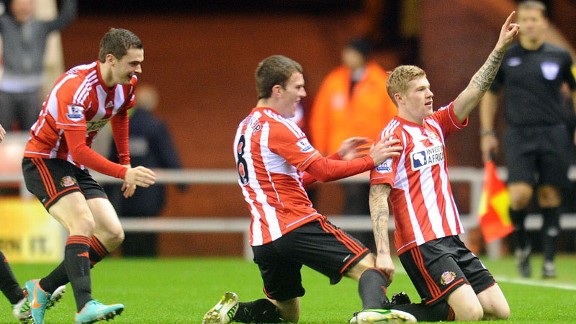 PA PhotosJames McClean opened the scoring for Sunderland against Reading
Had the Stadium of Light been up to the challenge of staging a game of football in the midst of summer, albeit after heavy rainfall, Sunderland 3-0 Reading would have seemed an entirely satisfactory and logical start to the season.

- O'Neill prepared for 'tough season'

Whether the game, originally scheduled for August 25, would actually have run to that script, given the strong banana skin potential of big-spending ambition colliding with the brash self-confidence of the newly promoted, we shall never know.

But to adapt the words of a BBC local radio interviewer in conversation with John O'Shea, Sunderland's captain in Lee Cattermole's absence, before the scoreline finally came true, the postponement left the game clinging to Sunderland's neck like a giant albatross. The outcome assumed disproportionate importance as games were lost and drawn, playing havoc with the confidence of players and fans alike.

There was much talk beforehand that defeat, a year to the day after Martin O'Neill's first game in charge brought victory over Blackburn Rovers and triggered an impressive, season-saving run, would lead to yet another managerial change.

Ellis Short, the club's owner, does not confide in me so I have no way of knowing whether the speculation was soundly based or mere journalistic conjecture. But among fellow supporters, disenchantment was growing. People whose opinions I generally respect had begun saying that on any rational analysis, O'Neill's record since the 3-3 draw at Man City in March warranted dismissal.

I disagreed. O'Neill was stretching a point when claiming he was the "only man for the job", but I did believe him to be the best option among any I could envisage. It is certainly true, however, that without those three priceless points, Sunderland would have been more likely than not to spend Christmas and New Year stuck in the bottom three.

Freezing cold failing where rain had succeeded in delaying Reading's fate, the match was won with three outstanding finishes from James McClean - at last resembling the player whose early performances under O'Neill gave the team such attacking menace from the left wing - Steven Fletcher and Stephane Sessegnon.

Reading had half-chances but, in reality, posed no more threat than would be expected from a team that looks a fair bet for relegation. With more accuracy from clear scoring positions, Seb Larsson and Sessegnon might have sent Sunderland into the dressing room with a four-goal first-half lead.

The victory came at a price that is yet to quantify. When I headlined Salut! Sunderland's first mention of the result "What an army of doctors ordered", one friend replied at Facebook that the medical corps might well be needed to produce a fit squad for the next game. Danny Rose, on loan from Spurs and playing superbly, collected an injury as did Adam Johnson and Phil Bardsley. Fletcher, just back from a short layoff, also seemed to take a knock.

Next game, did I say? It is at Old Trafford on Saturday. Indeed, the coming few games are all tough enough to stop anyone getting carried away by one comfortable victory over fellow strugglers: Southampton away (tricky if winnable), Man City and Spurs at home (last season's return of four points from the same ties would enthral but possibly surprise level-headed Sunderland supporters) and Liverpool away.

In no sense can O'Neill dare to believe the corner has been fully turned. Indeed, he could do worse than invoke that Churchillian mixture of spirit and realism, which can be trimmed for these purposes to "not the end, not even the beginning of the end but perhaps the end of the beginning".

Of course football is utterly devoid of significance when compared with war and a nation's struggle for survival. But when you reach early December with just two Premier League wins, a touch of euphoria is to be forgiven at the arrival of a third, however modest the opposition.