Surrender to Chelsea another signal dry finish in store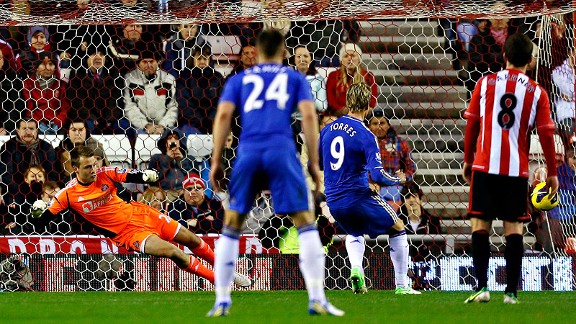 Paul Thomas/Getty ImagesLike his teammates, Sunderland keeper Simon Mignolet (left) was unable to keep up with Fernando Torres and Chelsea
The Sahara, as anyone could have told me, is not necessarily the best place in the world from which to monitor Premier League football without a decent mobile phone.

To add to the geographical isolation, my Blackberry has lately died. This seems to happen to me a lot and until I get my hands on yet another replacement, on order but in France (too complicated to explain), mobile communication is limited to a cheap little emergency phone that makes and receives calls without problem but handles text messages patchily.

For reasons pitched somewhere between unshakeable passion and pure masochism, I craved news of Sunderland v Chelsea as I straddled the Tunisian-Algerian frontier among a group of European and African journalists - plus the ambassadors or chargés d'affaires of 23 countries - on a trip arranged to promote tourism.

As I was to become all too painfully aware, Chelsea won 3-1.

Hardly an unexpected sort of scoreline in itself, this would normally have translated as seven text messages from Pete Sixsmith, my pal in the East Stand at the Stadium of Light, if he knew I had no other means of following the proceedings. That's one for each goal, a gloomy half-time resumé, a simple "lost" at the final whistle and, finally, his seven-word summary that appears week after week at Salut! Sunderland.

Pete lost no time in rattling off a glum "1 down" after a man in blue, whom I later discovered was one Fernando Torres, had put Chelsea ahead early. I naturally hoped for a spirited fightback while, more naturally still, feared a deluge.

But phone silence descended as our desert caravan - a convoy of 4X4s - made its way to oases, abandoned Berber villages and the remote location of Star Wars films.

Meriem, my professional travelling companion from the Tunisian tourism office - she supports FC Club Africain, one of the two big Tunis clubs, in case anyone needs to know - said: "Surely you don't need text messages. I have already told you your little team will lose. It's obvious."

If there is anything worse than following a match by SMS, it is trying to do so but not receiving progress reports when you expect them. What did the blank screen mean? No more Chelsea goals, a disappointing but honourable enough 1-0 defeat? But with no half-time message, it was equally likely Sunderland were taking a thrashing and Pete was unable to communicate its detail.

Maybe I should have asked an ambassador. There was no British diplomatic presence in the group , but perhaps Roman Abramovich was sending personal updates to the Russian ambassador's smartphone. By the time this thought occurred to me, Pete's silence had at last been broken. The game was long over but finally the message got through: "Far better performance than the scoreline suggests."

So Sunderland had lost by an undefined score, Pete's earlier goal-by-goal signals having clearly gone astray. The tone of his seven-word verdict also strongly implied that the margin was two or more and, a few minutes later, I learned the final score.

It might have been worse but was bad enough, certainly not something worth raising as any kind of conversational point with my Hungarian, German, French, Algerian, Austrian, Polish, Ukrainian and Italian fellow journalists (I'm flying the British flag alone). And I had no intention of giving the Russian ambassador an excuse to gloat.

Observant readers will have noticed I have avoided any attempt to describe events at the stadium. What would be the point? I was not there and had no opportunity to rely on the usual fallbacks of reprehensible - and annoyingly stop-start - internet streams or wholly legitimate radio commentary available for a modest sum via the official Sunderland club site.

For what it is worth, though, it was cast in stone that Torres would score. A penalty, foolishly conceded as I understand it, gave him a second and Juan Mata added a third before Adam Johnson injected something approaching respectability into the score.

Back at the hotel in the southern Tunisian city of Tozeur, the wi-fi was working and Helena, a Chelsea-supporting friend, had written at Facebook: "OK, it was only Sunderland, but a win's a win." Salt on wounds. "Those are the most hurtful words I have read in ages," I replied. "Who needs Burns - 'O wad some Power the gift tae gie us. To see oursels as ithers see us!' - when you have Helena?"

And where does it all leave poor old Martin O'Neill and Sunderland? In the mire.

Having threatened it often enough in a miserable first half of the season, Sunderland are duly in the bottom three. If they cannot beat Reading at home on Tuesday, they deserve to stay. But by then, I'll be back to ensure I do not suffer in silence again.