Will Chelsea's visit bring some overdue comfort - or just add to O'Neill's anniversary blues?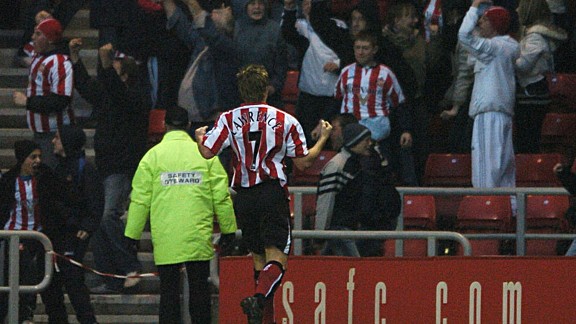 PA PhotosLiam Lawrence celebrates his goal against Chelsea in 2006
It was such a shameless breach of press-box ethics that Lord Justice Leveson might have devoted one of his 2,000 pages to it. Surrounded by serious-minded and professionally neutral football writers, I stood and cheered a Sunderland goal.

This was back at the start of 2006 in the infamous 15-point season when Chelsea were the high-flying visitors and Sunderland were, of course, rooted to the foot of the Premier League with a relegation spot more or less booked.

The Daily Telegraph sports desk had the smart idea of sending me from France, where I was working as the paper's Paris correspondent, to report from the Stadium of Light on this bottom vs top mismatch.

Unromantic journalistic reality dictated that the sort of piece they had in mind would work best if the game went to script and the homecoming Sunderland supporter could parade his misery for all readers to relish. It would also be a lot easier to write.

But when Liam Lawrence's powerful 12th-minute drive tore into the Chelsea net after 12 minutes, the reporter's instincts were overwhelmed by the fan's passions. Up I rose from my press-box seat to cheer as automatically as I would were I in my own place across the pitch in the East Stand. Fortunately, my more conscientious working companions managed to keep any thoughts of disapproval to themselves; no stewards were summoned to chuck me out.

Sad to relate, Chelsea recovered to win 2-1. The Telegraph got the piece the sports editor wanted and I, inured by lifelong experience, soon got over it.

As Sunderland prepare to host Chelsea again on Saturday, both clubs are the subject of intense scrutiny of their respective underachievements this season.

Martin O'Neill has just passed the first anniversary of his appointment as manager with his side entrenched in what he candidly admits is a relegation battle. The results, not just this season but since the end of March, have been atrocious, whatever allowances are made for injuries, suspensions or poor luck.

Chelsea have their own problems. The John Terry affair, and the club's shocking treatment of Roberto Di Matteo and Mark Clattenburg, has destroyed the admiration many neutrals - I include myself - felt after those valiant exploits against Barcelona and Bayern Munich. The fans don't want Rafa; they are in open revolt. The results after a highly promising start (under Di Matteo) have been, by their club's standards, so bad that beating Nordsjaelland 6-1 on Wednesday night was rendered meaningless by the failure to avert an inglorious exit from this season's Champions League.

But Chelsea can take care of themselves. O'Neill's predicament is more pressing and, for Sunderland supporters, infinitely more important.

Without wishing to spread salt over the wounds that this proud man must be already be nursing, the Salut! Sunderland website has been running a series of "O'Neill One Year On" articles from contributors with strong views on what has gone wrong. It was an accidental sort of series that developed from one writer's offer to submit what he insisted was not intended as an assessment of his first year in charge but ended up being just that.

These short extracts will help explain why, if the manager has found a bit of spare time and looked at the series (fan site editors can but dream), it will have brought him mixed emotions:

* I'm not in favour of O'Neill going yet, either of his own volition or his being forced out. The club needs stability and any manager needs time but I fear unless we see a change of tactics the Arsenal fans who said we were in for a boring time and the Villa fans who said MON's stubbornness will not take the club to the heights we crave will be proved right (Malcolm Dawson)

* O'Neill has persisted with wingers who are out of form (Adam Johnson) or have been found out (maybe both cases apply to James McClean), who have failed persistently to deliver decent service to our multimillion pound striker (Steven Fletcher) ... It's possibly the emphasis on playing with wingers that has distracted the manager from the genuine lack of creativity in the middle of the field where, invariably, Jack Colback has been paired with Lee Cattermole. Every team needs a Cattermole but it shouldn't require two Cattermoles or two Colbacks either. (Jeremy Robson)

* At the moment, the players just are not working hard enough on the pitch. We have seen that when they do, they produce a performance worthy of themselves and the manager. The second half against Norwich was a prime example of this. O'Neill didn't change the way we play in that second half, but we created ample goal scoring opportunities and could have run out 5-2 winners had we taken them. (Gareth Barker)

* I am still very much behind our manager and still believe he can and will turn things around, but this doesn't mean he's immune to criticism. We're now well past the point in the season where we should be happy to take positives from the odd good performance. As is often stated this is a results business, and so far this season we haven't had enough good ones. The January transfer window is going to be massive for our season. I don't think it's going to take much for us to turn this season around but we do need a few reinforcements, and I think O'Neill and Ellis Short (the owner) know this more than anyone. (Richard Purdham)

* The arrival of Fletcher and Johnson was heralded by most as a step in the right direction. Two wingers - one (Johnson) skilful and subtle, the other (McClean) a rambunctious raider - would, it was hoped, play a major part in setting up the goals for Fletcher and Stephane Sessegnon. Bring on Arsenal, Reading and Swansea. But it hasn't worked out that way. We have struggled to find the net, Fletcher our only League scorer until a helpful Newcastle player gave us a point in October. Our central midfield has shown as much imagination as a Simon Cowell TV show and to call the two wingers effective would be a violation of the English language not to mention the Trades Descriptions Act. (Pete Sixsmith)

Leaving aside the thought that you don't often see 'rambunctious' in a football report, these are the sensible views from supporters of different generations. They give you more than a snapshot of the underlying causes of Sunderland's dismal form.

But since I began with recollections of one home performance against Chelsea, let me end with the hope that Sunderland can somehow replicate on Saturday another, more fondly remembered encounter.

Thirteen years ago this week, as Pete Sixsmith's article in the anniversary series also noted, was an event many of us recall as the finest 45 minutes seen at the Stadium of Light.

Trounced 4-0 at Stamford Bridge of the opening day, having romped to promotion as champions the season before, Sunderland served up a spectacular performance in the return game against the star opposition led by Gianluca Vialli. Peter Reid's team led by the same margin at half-time. The magical pairing of Kevin Phillips and Niall Quinn shared the honours with two apiece (Phillips went close to a hat-trick in the second half as Chelsea managed a solitary consolation goal), and an underrated Frenchman called Eric Roy turned in a masterly performance in midfield.

A repeat is unlikely. Most subsequent games against Chelsea have ended in defeat. Who knows what that hollow 6-1 Champions League victory will do for the morale of Torres & Co. But I can think of no more timely occasion for Martin O'Neill to spur his men on to a display that - compressing and combining the arguments of those fans quoted above - shows enough midfield creativity, hard work and attacking punch to persuade the success-starved support that, with his work in progress, the manager is at last making steps in the right direction.