WBA visit prompts conflicted Kilbane memories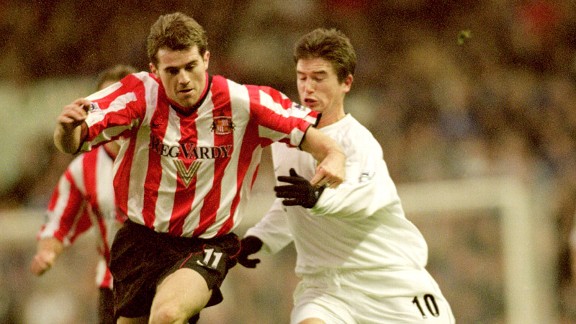 Michael Steele/AllsportKevin Kilbane's checkered tenure at Sunderland began with promise against WBA
Everyone remembers the cross.

When I say everyone, I mean those old enough to have been following Sunderland on December 18 1999, the day Kevin Phillips scored twice - not an out-of-the-ordinary event - and the other Kevin, Kevin Kilbane, made his debut.

I, of course, had seen it all or nearly all by then (even a trophy, the FA Cup in 1973), so I was blase. But even I remember, and I am remembering it all over again as Sunderland prepare to face the club from which he was bought, West Bromwich Albion, on Saturday.

For younger fans already revelling in a great start to the 1999-2000 Premier season, the arrival of our expensive new player - at £2.5 million he was the third-highest signing in the club's history - was explosive.

On as a second-half substitute, his first action was to send over a wonderful cross to the far post which Phillips gratefully nodded home to put the game beyond Southampton's reach, lifting Sunderland to the nosebleed heights of third top.

People still talk about it for one of two reasons: as part of a demolition job on Kilbane, reviled by many Sunderland supporters (as in "it was the only thing he ever did right"), or as the start of the opposing argument that he was a far better performer than given credit for but never had a fair chance.

Both points have supporting evidence. That 2-0 win was the last victory of any kind until late the following March. A carping little Irish football website, styled the Official Kevin Kilbane Hating Society, recalls the slump as having its own name, The Curse of Kilbane. The phrase was new on me but I do have vivid recollections of fans accusing then-manager Peter Reid of disrupting the rhythm and balance of the team to accommodate a costly but ineffective acquisition.

Yet slump or no slump, Sunderland ended in seventh place, the first of two such lofty finishes in successive seasons.

The doubters must believe that short period of success was achieved despite Kilbane and not - at least in part as might be fairer - because of him.

In his favour, it can be said that he made telling contributions in certain games during his four-year stay.

It is probably not helpful to his cause to hark back to a glorious individualistic goal against Derby County the following season, when he cut in impressively from the right and scored with a superb left-foot curler. In the same match, with Sunderland two up and coasting, he inflicted seven closing minutes of agony on home fans with a spectacularly bad backpass that allowed Malcolm Christie to reduce the lead.

But he also scored a fine winner at Southampton that season and one of three to beat Charlton. But he was by then irredeemably unpopular with a large section of Sunderland supporters.

The next season, with an altogether more familiar relegation scrap nearing what would be a fortunate climax, he did his bit with an early goal at Charlton, so early that a few away late-arriving fans missed it. "Glad I wasn't here for that," one said. "I couldn't never bring myself to cheer for a Kilbane goal."

We had been told Kilbane was greatly liked at the Hawthorns (where supporters were later to marvel at Kevin Phillips' goalscoring flair). He went on to have his admirers at Everton, Wigan and Hull, among later clubs. Coventry City named him captain for this season. He won 110 caps for the Republic of Ireland. He has clearly done something right in his career.

With WBA looming, a cheeky tweet to Peter Reid was irresistible: "Here's one Peter. Did we #safc fans give Kilbane a fair crack of the whip or not enough cracks of the whip?" He often rises to the bait, but not this time. Someone else I follow, who tweets with the splendid nom de guerre of Ghost of Roker replied for him: "Many didn't in my opinion. He was a good player but needed confidence and unfortunately became a bit of a boo boy."

There is only the hint of a moral to this tale. Kilbane would have needed to be a remarkable character and player for his performances to be unaffected by the treatment he received. I agree with Ghost of Roker his confidence took a bad pounding.

I tend not to boo players representing my club because I cannot see how it could ever be productive. Other people, paying handsomely to attend football games, are entitled to a more robust view. But perhaps the next time someone feels inclined to jeer a member of the current squad for wretched distribution, sloppy defending or wasteful finishing, they might bear in mind the risk of making a decent player look awful.