Strictly neutral, but Fulham away can be a walk in the park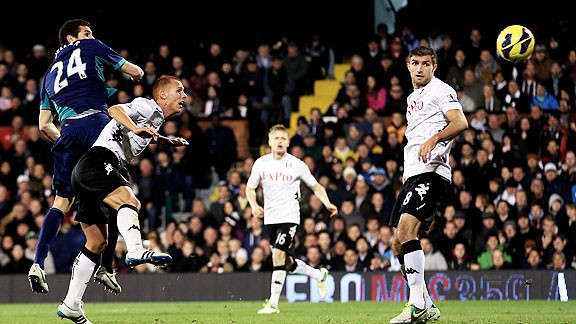 Julian Finney/Getty ImagesCarlos Cuellar's header gave Sunderland a lead they would not relinquish at Craven Cottage on Sunday.
Fortified by good ale and battered haddock and chips at Parsons Green -- Sundays just cry out for a healthy diet -- I proceeded to Craven Cottage in a philosophical frame of mind.

Hadn't Philip Mison, my Fulham counterpart on these pages, warned me to expect a 3-0 defeat for Sunderland?

Friends wrote him off as a cocky southerner. I loyally agreed but feared he would be proved right.



A scoreline that reads S O Else or A N Other 1 Sunderland 3 is something of a lesser spotted variety. True, there have been even better results in what is, at best, a patchy modern history. But the last time that particular one happened -- Sunderland winning 3-1 away -- was in April 2008. Against Fulham.

Wins for both Reading and Southampton had turned this into something of a must-win affair. I did offer 3-2 to Sunderland as faithful forecast, but not even the splendid, Sunderland-supporting company into which I fell for pre-match sustenance made me think, honestly and realistically, that anything better than a draw was likely.

The first half dismissal of Brede Hangeland was, beyond question, crucial.

My instinctive feeling when Lee Probert very quickly raised his red card was that this was a harsh judgment. But it was a two-footed lunge (at Lee Cattermole) and, as every schoolboy knows, these are not greatly appreciated nowadays. Hangeland as culprit means there was, and will be, plenty of debate; had Cattermole committed the foul, even Sunderland supporters would have seen a sending-off as the stuff of night-follows-day.

There are two pleasant aspects of a trip to Craven Cottage.

One is the walk through the park to and from the station. The other is the "neutrals" section behind the goal into which Sunderland forced the ball four times -- legitimately in the first three cases -- in that decisive second half. I wondered beforehand whether I'd be interrogated about my origins and self-proclaimed neutrality, checked for anything about my person suggesting Sunderland allegiance and then watched like a hawk for 90 minutes for the least hint of passion.

Nothing of the sort happened. People around me supported Fulham or they supported Sunderland. Some wore colours. No one fought, no one anywhere near me objected to a neighbour's cries of happiness, misery or outrage as events unfolded. Lots of hands were shaken at the end.

It would be all too romantic to suppose this could be replicated at every football stadium week in, week out. I am old enough to remember standing shoulder-to-shoulder with opposing fans but, while I came to no harm and never even felt fear, it is not hard to see that times changed.

I suspect things could get heated even in the Craven Cottage neutrals' section. All the same, I wish all grounds could have one. The fact that my football-playing daughter's teammate supplied my ticket for a fiver is naturally beside the point.

Now, any Sunderland match report under my name is likely to be considered partisan.

So let me try my best to be even-handed and say Fulham going forward rarely looked a man short. Dimitar Berbatov, such a fine player, was central to most of what the home side managed as an attacking force. It is also difficult to argue with television viewers who made Sunderland's goalkeeper, Simon Mignolet, the man of the match. When you've just won 3-1 away, that is close to an insult. But he did make two or more outstanding saves to protect the lead.

But who was more dangerous, more often?

I'd say it looked more like ending 4-1 than 3-3. The Sunderland goals were all well taken. Steven Fletcher's control and finish for the first was sublime, Carlos Cuellar restored the lead after Mladen Petric's equaliser with a terrific header and Stephane Sessegnon will dine out on his 25-yarder for years to come. Sunderland might still have conceded to set up a nail-biting finale, but it is a source of encouragement that they did not.

This was a massive result for Martin O'Neill, whose team would otherwise have entered a sequence of mostly home games under immense pressure.

Mison will see things differently, I am sure. But the walk through the park capped a decent enough day to be a Sunderland supporter.