Time for James McClean to avoid controversy and prove himself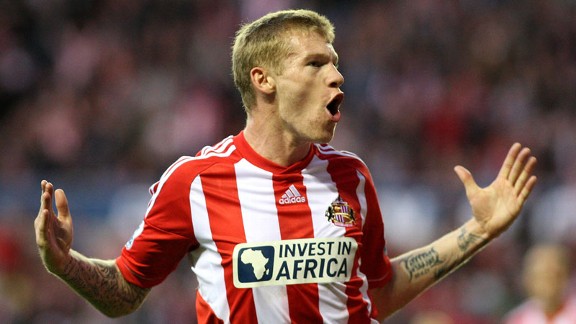 GettyImagesJames McClean: Needs to curb his behaviour
Plenty of people have points to make as Martin O'Neill prepares for yet another attempt to kickstart a lame Sunderland season.

"We will come good," he promised last Saturday in a flattering appraisal of the narrow defeat at Goodison. Sunderland had indeed played well - though not "brilliantly", Martin - and did have three excellent chances before Adam Johnson put the team ahead in the last meaningful action of the first half.

A draw would have been a fairer result, but the record books make no concession to justice and will forever read Everton 2-1 Sunderland.

But O'Neill, no less than the men playing for him, needs to prove himself. The murmurs of discontent will grow louder if he does not soon lead his team to some points-winning performances.

And the players themselves have work to do. Louis Saha, according to speculation, may get his first Premier League start for Sunderland at Fulham on Sunday, Steven Fletcher having picked up a knock on Scottish international duty. He has to prove he is still up to top-flight demands at 34.

Seb Larsson was part of the Swedish victory over England. He has yet to play as well for his club this season and could usefully start doing so at Craven Cottage. Adam Johnson and Stephane Sessegnon must build on their improved showings at Goodison; both ought to be utterly crucial components of O'Neill's side.

But most of all, James McClean has to make an impact, on the field for once instead of off it.

This has been a year of controversy for him. First there was the decision to play for Republic of Ireland and not Northern Ireland. Then he angered Giovanni Trapattoni, the Irish manager, by parading his dismay, in a tweet laced with profanity, at being left on the bench. And last weekend, he caused much offence by refusing to wear a poppy-adorned Sunderland shirt at Everton.

The first and third of those issues are delicate and emotive. I felt he had every right to take the action he did. To argue otherwise is to demonstrate great naivety about the political and social realities of Northern Ireland.

In the case of the poppy - and yes, I bought mine and wore it with pride - it seems crass to deny an individual the very right to freedom of expression for which we are often told the Second World War was, in part, fought. I have had my say fully at Salut! Sunderland and the debate attracted scores of responses for and against my proposition. There is no need at this distance to say more than that I also respect the right of others to criticise McClean's actions, even if he has made the mitigating gesture of auctioning his poppyless Goodison shirt for a children's leukaemia charity.

But it is not unimportant that Sunderland is a club with a traditional working-class support that frequently produces volunteers for the Armed Forces just as it supplied conscripts.

In acknowledging the different working-class traditions of Derry/Londonderry that give McClean his Nationalist, pro-Irish sentiments, I appeal to him to remember where he is currently his earning his living and see that he has given himself a hill to climb. Plenty of my fellow supporters have shown themselves to be less understanding. He has to earn afresh a place in their affections or at least their esteem.

And the only way he can do that is by embarking on a period of discretion off the field, thinking twice before tweeting and three times before embracing some other political controversy, and a prolonged spell of purposeful activity on the field.

McClean has, so far this season, been a pale imitation of the winger who burst from the reserves into Premier League action to help the side to victory in O'Neill's first game in charge a year ago. More of that, less of the distraction, is what is now called for.