And then there were three: the slow death of the Saturday football paper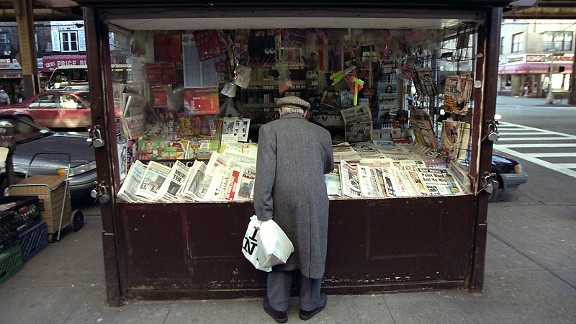 GettyImagesOne less Pink'un on the newspaper stands
On a sad day just a month ago, copies of another dying Saturday night football newspaper, the Sports Mail in Portsmouth, rolled off the presses for the last time.

The paper had been proudly serving its south coast readership for 109 years, only to go the way of so many Pinks and Greens (weren't there also Blues and the odd exception printed on conventional white?) at other locations on Britain's football map.

For one last time it recorded the day's events on the field - not at Fratton Park, but at MK Dons where Pompey had managed a 2-2 draw - before the vans began distributing the final copies, now destined to become collectors' items.

I am of a generation that grew up with these papers. In the North East, each of the big centres of football - Sunderland, Middlesbrough and Newcastle - had their own Pinks. Even the little evening paper in Darlington, the Northern (later Evening) Despatch had one.

Their appearance was a big part of my weekend life.

The journey home from Roker Park every other Saturday could be made by train, first to Durham and then changing. There was time in Durham to wander off down the steep hill from the station and have frothy coffee and steaming hot steak and kidney pie while hoping the Pinks would arrive before we had to climb back up again. It was rare for neither the Sunderland Echo nor Newcastle Evening Chronicle's football papers to get to Durham in time; sometimes both came.

Looking at the latest casualty, no detailed post-mortem examination is necessary. The cause of Sports Mail's death can safely be given as strangulation, life squeezed out of it by the massed forces of ailing newspaper economics, dwindling sales and the competition from TV, radio, internet and smart phone advances.

Its demise left just three remaining titles dotted around the country: The Pink, published by Southern Evening Echo at Southampton, home of Pompey's traditional rivals, the Green 'Un in Sheffield and - alone among that old quartet of North-eastern Pinks - the Football Echo in Sunderland. It is anyone's guess how long it will be before they have all succumbed to the same chronic malady.

Of course, another key feature of the decline of Saturday football specials - perhaps the biggest single cause in most cases - has been the changing face of the fixtures list. Until the arrival of televised live football, the papers could count on a 3pm Saturday kickoff affecting not only their own team but all others. The results column and the league tables were complete. Everyone knew who had won, lost and drawn. Football was done and dusted on the Saturday.

Portsmouth was not affected in the same way, or at least not since relegation in 2010 as most games outside the Premier still take place on Saturday afternoons. Sunderland and Southampton are both currently in the Premier League. Sheffield's Green 'Un covers Wednesday and United, Rotherham United, Barnsley, Doncaster United and Chesterfield. None of those sides has been in the top flight since 2007 when Sheffield United dropped a division.

But it is impossible to dismiss the significance of games being played too late on the Saturday for an evening paper or not until the next day or beyond. Otherwise, why on earth would Sheffield and, until last month, Portsmouth support a footballs special and not Liverpool, Manchester, London or Glasgow?

When the Sports Mail closed, the chief sports writer Neil Allen - recalling that he had witnessed the closure in 2006 of Birmingham's Sports Argus – wrote: "It's a funeral I have attended before. Previously it was the Sports Argus, the backing track to my footballing childhood. Now I have bid an emotional farewell to another much-loved friend.

"The voice of experience tells me this is how progress works, things move on, our day-to-day existence is constantly evolving. Nonetheless, the internet has claimed another newspaper victim. Only this time it has struck down a popular friend of the Pompey family."

Older readers added their messages of sadness and even disbelief. But the cruel reality is that the football paper is no longer a necessity, even for the most avid of supporter.

I buy the Sunderland version whenever I can, which is not often, and see a friend's handed-down copy most weeks. For a few years, I even paid each year to have it posted to me. But much as I enjoy it when I see it - its writers broadly succeed in the delicate balancing act of remaining objective without overstepping the line that might damage access - I can do without. If a man who has always made his living in newspaper journalism and prays that it will continue thinks like that, why should others feel differently?

As I wrote just over a year ago at Salut! Sunderland, the surprise is not that there are so few left, but that there are any at all. That posting was inspired by a piece I had written for The National newspaper in Abu Dhabi; for that, I had asked the Newspaper Society, representative body of the British local and regional newspaper industry, for a list of surviving football papers published by its members. No one could answer the question.

At the offices of the Southampton and Sheffield papers, I was able to speak to senior sports journalists who were as confident as they could be in troubled publishing times that their editions would continue. I put rumours about the future of the Sunderland paper to its owners, Johnston Press. As can be be seen from my comment below, the response talks up the success of a newly introduced smart phone application and offers hope that the Football Echo will continue "in one form or another", which is encouraging only as far as it goes..

I hope the trio of survivors can carry on printing. But I cannot help thinking of the robust response I had a year ago from a Portsmouth reader, rationalising what was then Sports Mail's continued existence: "Getting it is a ritual for quite a few in the city and surrounding area."

Clearly not a ritual observed by sufficient readers.