A wing and a prayer as Sunderland travel to Goodison Park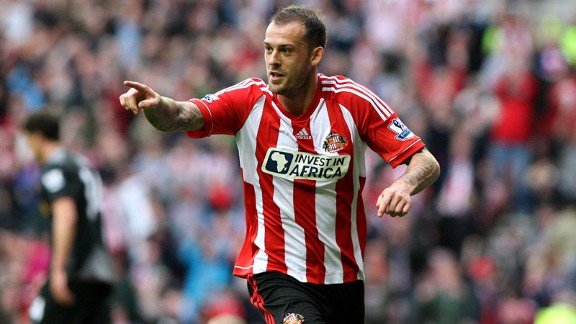 EmpicsSteven Fletcher is the only Sunderland player to score in the league
With a disastrous record of just one win from their last 17 games, Goodison Park is the last place Sunderland wanted to travel this weekend.

That might sound strange, but Sunderland supporters are acutely aware of the club's disastrous record away at Everton - they're without a win in 13 attempts, stretching back to November 1996. "People talk about bogey teams and all that but you both start with 11 men," says midfielder Craig Gardner. "It's probably one of the hardest places to go to. The fans are brilliant and they have a strong team."

A trip to Old Trafford or Stamford Bridge might prompt an inspired, resilient, defensive-minded performance - Martin O'Neill's side held Arsenal to a 0-0 on the opening day of the season, and the club's defensive organisation under the Northern Irishman is occasionally excellent - but Sunderland can't simply park the bus against a side like Everton. There must be some attacking ambition.

The problem is, a direct comparison with David Moyes' side might turn into an embarrassment for Sunderland. Broadly speaking, these are similar sides - they defend with two banks of four, then attempt to focus their passing down the flanks, and base their attacking around an old-fashioned, tall central striker, Nikica Jelavic and Steven Fletcher. But while Everton average 20 shots per game this season, the most in the Premier League, Sunderland's 8.7 is the worst tally.

The problem is obvious - Jelavic receives significantly more assistance than Fletcher, both in terms of service and goalscoring. Everton's goals have been shared between eight players in 10 matches, whereas Fletcher remains the only Sunderland player to have found the net in 2012/13.

The Rokerites' striking performance isn't improving. Last week, in the 1-0 home defeat to Aston Villa, none of their 12 shots tested Brad Guzan. "Once we got into situations where it was time to create stuff, the confidence wasn't there," admitted Swedish midfielder Sebastian Larsson. "We became a bit tentative and nervous and we ended up not creating. That is what the manager has been speaking to us about, to try to play with more freedom."

"The key for us is to create more chances, score more goals," agrees Carlos Cuellar. Stephane Sessegnon also supports the theory: "We've not created many chances all season. We need to be more dangerous going forward." But why are Sunderland struggling to create?

O'Neill's sides have always been focused upon playing with great width - at Leicester and Celtic he played with wing-backs, at Aston Villa he got the best from Ashley Young and Stewart Downing. This season, he's invested a large amount of faith in Adam Johnson and James McClean. "There were countless times we had one-on-ones with our wingers," said O'Neill after last weekend's defeat. "The most encouraging thing for me was the number of times we had one-on-ones, and that is what we strive for."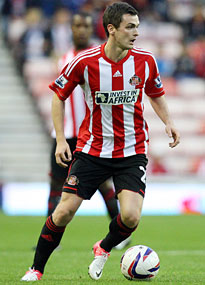 PA PhotosAdam Johnson: Wayward crossing
Yet once the wingers receive the ball, they haven't been providing service for Fletcher. Johnson and McClean, the two most regular starters in wide positions, have atrocious crossing statistics; four of Johnson's 41 crosses have found a team-mate, McClean has completed three from 38. Less than 10% accuracy - after they've manufactured space for a cross in the first place. That's another issue, as both wingers are extremely left-footed, and their movement on the ball is predictable. Against Villa, O'Neill dropped McClean, used Johnson on the left and pushed Larsson out wide - the Swede is a superior crosser, but lacks the pace to beat a man, or to play counter-attacking football.

Put simply, there's too much of an emphasis upon wide play. The lack of creativity in central positions is something O'Neill inherited but hasn't fixed. Sessegnon plays between midfield and attack (Fletcher), and is capable of superb, direct dribbles, but this season he's barely been noticeable. The Beninese blames a lack of service, but his fitness and motivation must also be questioned. Presently, he's contributing little - he's not dribbling effectively, he's not a great creator, and he's not a goalscoring threat.

O'Neill is now encouraging more long-range shots, particularly from Gardner. "Craig's eye for goal really could be a tremendous asset for us," he said this week. "He has got a great shot, he gets into dangerous positions and he hits the ball as strongly and as truly as anyone in the Premier League." But Sunderland are already shooting from distance - 51% of their shots are from outside the box, the most in the league. In another stark contrast, Everton's 32% is the lowest, because they're working the ball into the box successfully from wide.

Everton have reliable passing combinations - the wingers don't attack opposition full-backs alone, they receive support from the full-backs - and offer methodical strategies to distribute the ball wide. O'Neill speaks of his desire for one-versus-one situations, but Moyes' training drills often encourage two-versus-ones down the flanks, especially after a quick switch of play. This is a small example, but it demonstrates that Everton's build-up play is more intricate, more cultured, and the statistics prove it more effective.

Just eight months ago, these sides drew 1-1 in the FA Cup. At that time, they were level on points in the Premier League, but since then, Everton have collected more than double Sunderland's points tally - 36 compared to 17. Whether you look at this fixture from a historical or a statistical viewpoint, a Sunderland triumph at Goodison Park would be one of the most unexpected results of the Premier League season so far.