Talking up failure, singing of the past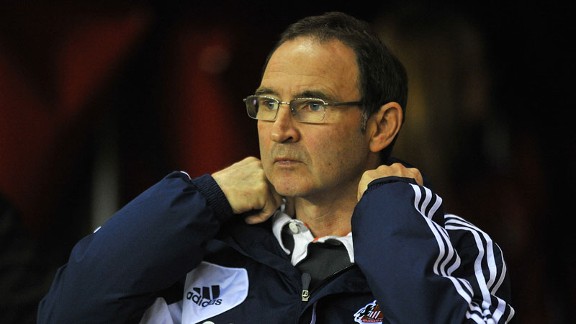 PA PhotosMartin O'Neill's side are struggling badly in front of goal
Maya is just four. Her mother supports Liverpool (and since that mother is my daughter, I clearly failed as a father) but she has me to offer some balance in terms of indoctrination, which has enabled her quite unwittingly to identify a key factor in Sunderland's wretched season so far.

"Super, Super Kev, Super Kevin Phillips" is how the chorus ends and she pipes up with it a lot, having picked up the song from listening in the car to a CD of Sunderland-related music that her mother gave me as a birthday gift.

Kevin Phillips is a name that evokes goalscoring, a feature of the game that is alien to the way Martin O'Neill's squad currently play it. The whole of October passed without a single Sunderland player hitting the back of the net, with the only goal coming when Newcastle United's Demba Ba deflected an off-target John O'Shea header into his own goal.

It is not as if the team was prolific before that: one player alone - Steven Fletcher - accounted for all five goals managed in six Premier League games. Most teams go through rough patches. But how many home fans, however partisan, thought as they watched on Saturday that Sunderland looked likely to score once, let alone twice, even if the referee added a couple of hours of stoppage time?

O'Neill will not thank me for harking back 12 years to when Phillips scored 30 goals to win the European Golden Boot award. Or even to Darren Bent's 24-goal haul in 2009-2010. But since Fletcher, good as he is, does not look like a player who will get many more Premier goals than the 10 and 12 he scored in his two seasons at Wolves, the team cries out for striking power in other positions. It is glaringly absent.

On Saturday, some of the approach play was encouraging but only until the ball reached either flank or the area in and around the penalty box, at which point the threat disintegrated through a combination of woeful crossing (until late in the game), hesitancy and solid defensive play from Villa. The best Sunderland player on view was, by a mile, Lee Cattermole, but he does not seem to have a goal in him, and it speaks volumes that he was also the man who (twice) went closest to scoring.

Bumping unexpectedly into the Villa players at a seafront hotel before the game, I had studied the players' faces for trace of fear or resignation. After all, they were starting the match below us and reports of their season so far indicated they were hardly invincible. I looked in vain. They seemed perfectly relaxed as they clambered aboard the team coach and, if anyone was feeling apprehensive during the short onward journey to the Stadium of Light, it was me.

In the match build-up, O'Neill had presented a combative figure, betraying some indignation at the criticism heaped on him and his team after the meek League Cup exit to Middlesbrough. He accepted the fans' right to boo players off if they felt short-changed but argued that it was unrealistic to judge the season so early.

Even after the Villa defeat, he was insisting the players had given everything (except a goal) and did not deserve to end up on the losing side.

O'Neill should not be rebuked for talking up his team's efforts, but with the exception of a borderline penalty shout, it is difficult to see what part bad luck actually played in the defeat. He was essentially talking up failure.

In the last pre-match interview I heard, he made the point that, by the time the final whistle sounds at Fulham on November 18, Sunderland will still have played only 11 Premier games, seven of them away.

After decades of support, I am philosophical about the club's ups and downs, having seen a lot more of the latter. The disconsolate fans calling or texting a local radio phone-in on Saturday evening were right to be angry, although wrong to claim - as some did - that this was the worst Sunderland team in 20, 30, 40 or 50 years. Their memories must have shut out the 15- and 19-point relegation seasons.

But it is currently a team lacking in confidence, creativity and attacking clout. Players make a hash of basic tasks, movement off the ball is uninspired, the midfield offers no guile. Shots, in so far there are shots, go astray; one effort by Seb Larsson went out of play closer to the Villa technical area than Brad Guzan's goal.

Even so, it makes no sense whatsoever to clamour for O'Neill's head. A respectable return from the coming cluster of games would work wonders for morale - for the supporters as for the squad.

Inconveniently, there is a snag: the revival must start soon and successive trips to Everton and Fulham before Sunderland next play at home suggest, on the evidence of recent weeks, that the wait may have to continue. With no Kevin Phillips to call upon, I suspect O'Neill will be even less keen to be judged on the season as it stands when the players leave the field at Craven Cottage.