Lack of attack in adversity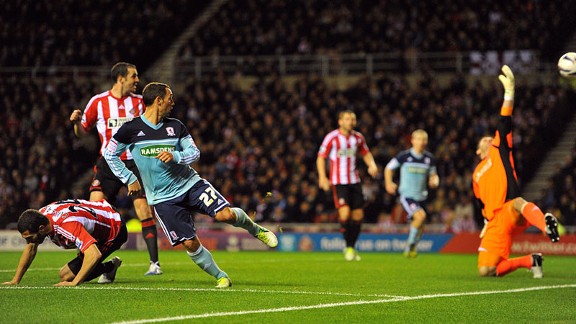 PA PhotosScott McDonald heads home the winner for Middlesbrough against Sunderland
The famous NCAA basketball coach John Wooden once described adversity as "the state in which man mostly easily becomes acquainted with himself, being especially free of admirers then."

It's probable then that the majority of Sunderland's players spent Tuesday evening becoming very familiar with themselves after they slumped to a 1-0 defeat at home to Middlesbrough. On what was a bitingly cold night at the Stadium Of Light, the reception at full time matched the plummeting temperatures as thirty three thousand made the game, only to witness another tepid attacking display.

- Hangover for Martin O'Neill's underachievers

Worse than the defeat for the home side was the lack of discernible chances, something manager Martin O'Neill admitted made for difficult viewing. Especially when you consider their attacking quartet equated to a cost of just under £30 million - a sharp contrast when put next to the eleven players Middlesbrough named for less than a third of that figure.

After the game, O'Neill cut a desolate figure - his hands clasped together, perhaps subconsciously praying. He perked up somewhat after the opening gambit of questions, but even he could do little to dispel the negative energy that was hovering. Sunderland's cup form had been one of the few bright spots on an otherwise barren early season.

Sunderland started brightly, their play was quick and direct. An Adam Johnson corner almost crept in but was stopped by the desperate dive of Boro 'keeper Jason Steele. However the early positivity quickly reverted to the theme of the season.

Too often on Tuesday night, the pacing of play wasn't right. Things were either done too quickly and became forced, or to slow and cumbersome to build up any momentum, giving the isolated Steven Fletcher little chance of fashioning a chance for himself let alone a team-mate. It was a methodology destined for failure.

At least the manager displayed urgency. O'Neill remained perched on the dotted white line of his technical area throughout the game, his hands flailing instructions like a conductor - only allowing himself a break to sip from a nearby water bottle before returning to his post.

In the thirty ninth minute, Mowbray's men gained their breakthrough - after neat play down the right allowed Ishmael Miller to drive a low cross into the path of Scott McDonald - the Australian's strike leading to a cascade of boos from home fans - a polarizing sight when compared to the joyous scenes unfolding in the upper tiers of the North Stand for those lucky enough to get a ticket.

As if losing to Middlesbrough wasn't bad enough for Sunderland - watching Grant Leadbitter - a graduate of the club's own academy produce a stellar display will only further irk. Tidy in possession, with quick feet, Leadbitter was the metronome for Mowbray's side, as he looked to play round Sunderland's midfield instead of engage in the kind of physical battle Lee Cattermole thrives on.

Perhaps sickeningly ironic to consider that the club could do with someone like Leadbitter now, who was applauded both before and after the game by fans who remember his committed displays fondly - which included an emotional goal in a draw against Arsenal, only weeks after the passing of his Father Brian.

It's now been over 6 hours of play since a Sunderland player last scored a goal - a worrying statistic when paired with the fact Demba Ba's own goal was their only strike of October. Of course stats can often be skewed to fit a theory. Case in point - Sunderland have only lost one game this season, but they've also only won one game too.

The visit of Villa - themselves undergoing an arduous time in the league, is likely to provide three points for one side, and another crushing blow to the confidence of the defeated. With even O'Neill admitting afterwards that he has no right to demand fans show up on Saturday - perhaps the biggest admission of how poorly Sunderland are right now.