Hangover for Martin O'Neill's underachievers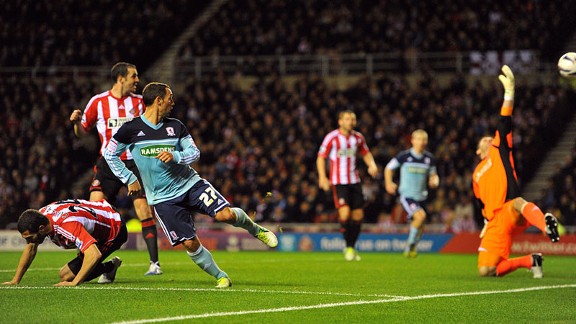 PA PhotosScott McDonald heads home the winner for Middlesbrough against Sunderland
In an earlier life, I was informed by Conrad Black, lately of the US penal system and a strange appearance as a Have I Got News For You panellist, that I was "doubly defeatist".

My mistake(s) had been to say in his presence that Canary Wharf would always be a wretched place in which to run a newspaper, then home of the Daily Telegraph (which he owned and for which I toiled), whatever shops, restaurants and bars might be opened there, and that his paper would lose, but with only nominal damages, a libel action in which it was at the time involved.

- Blog: Lack of attack in adversity

I was certainly right on the second count. And I still believe I was right on the first; subsequent owners of the paper couldn't wait to move it back into central London.

This week, it has happened again. Once, when writing for these pages and then when working on my own site, I mentioned the possibility of Sunderland crashing out of the Capital One Cup at the hands of Middlesbrough. Perhaps with that magisterial Conrad rebuke nagging away at the subsconscious, I decided against being defeatist, doubly so, and scrubbed out each reference. Only to be proved right again.

There must have been better ways, suggested a friend who was there for Sunderland v Middlesbrough, of spending a Tuesday night. Back from a long stay in France for my winter fix of football, I had idly considered a week full of it: no work to get in the way, just Stoke away and then Boro (cup) and Aston Villa (Premier) at home. So far I have missed two of the three while, in truth, missing nothing at all.

Stoke has already faded into the recesses of the mind as a narrow escape - just another dreary draw, another game without a Sunderland player scoring (it last happened on September 29), another demonstration of charmless football. I have a few days to get over the Boro defeat before steeling myself for Villa at the Stadium of Light on Saturday, when Sunderland's season may or may not finally crank into life.

I left it too late to obtain a ticket for Stoke. The cup game clashed with my wedding anniversary and I was in London's West End, watching the occasionally good but not great - my view only - story of the Four Seasons, Jersey Boys, as Sunderland gave new meaning to Oh, What A Night. A sneaky look at the text message during the interval, also half-time at a north-eastern stadium, told its grim story: "One down... the most inept performance since the last most inept performance."

Like it or not, the Villa ticket has arrived in the post. Having now endured all the jibes about walking like a man, the need to be a big girl (or boy) who doesn't cry and supporting a team of rag dolls, I am making my preparations for the weekend.

As is Martin O'Neill.

Now we know O'Neill would probably have been a lawyer had football not offered a more appealing career path. But when he said he was "disappointed" with the display against Boro - from a division lower lest anyone forgets - he arguably fell from the highest standards of precision, associated with that lost profession of his, in the use of English.

Disappointed is what I feel if Sunderland have played well but lost to a fluke goal, a lamentable refereeing decision, a key injury, a late abandonment. None of that appears relevant. This defeat, according to any paying supporter who was present and has offered an opinion seen by me, was not a disappointment but a calamity. Well beaten, on all accounts, by a better organised, more passionate and even more skilful side that betrayed none of the sloppiness Sunderland offered in abundance.

I wondered whether I had been too harsh in describing our season so far as dull as dishwater. I accepted that others had a point when saying one Premier defeat (and six draws) in eight reflected a solid foundation, building from the back as O'Neill's mentor and one-time Sunderland hero, Brian Clough, did so admirably in the best phases of his managerial career.

Now, I fear I may have been too kind.

No need for patronising truisms about what is needed to lift the team's overall standards in time to make Saturday a rare winning day. No need for further questions to be raised about the form or commitment of individual players.

O'Neill knows without amateurish advice from me what is wrong and how it may be put right. He retains my support. He has not suddenly turned into a bad manager. But he also knows the harsh judgement that awaits him at the weekend: thousands of seats empty that, with a different result on Tuesday night, would have been occupied.