When the beautiful game gets ugly: meddling in that enduring Arsenal-Stoke feud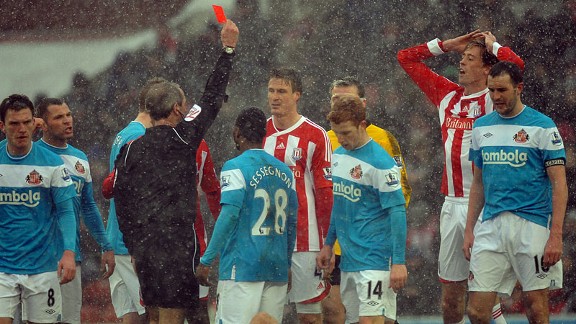 PA PhotosStoke City's Robert Huth is sent off against Sunderland
This is not an official Sunderland supporter's view and nor is it shared by football fans generally. But Arsene Wenger is a manager and a man for whom I have great admiration.

He wants his teams to play good, even elegant football and expresses himself superbly in English as well as French; I can vouch for his command of those languages but not the others he is said to have mastered.

So far, I am probably on safe ground with Arsenal supporters except those impatient for change at the Emirates.

Moving on to Stoke City, let it be said they deserve credit for re-establishing themselves as a fixture of the top flight, as far as any club outside the exalted big five or six can be considered free of serious threat of relegation. And it would be ridiculous to deny Tony Pulis a decent share of that credit.

Stoke supporters are probably nodding their heads in approval of a fair appraisal of their club.

But the cosy consensus evaporates the moment you bring Arsenal and Stoke City fans together, whether in their respective stadiums or by means of modern communication.

It has something, perhaps a lot, to do with residual animosity about that Ryan Shawcross challenge on Aaron Ramsey that endangered the young Arsenal man's career and put him out of the game for nine months.

Not everyone found it easy to deal with that episode reasonably. I quickly posted an article headlined "Sympathy for Aaron Ramsey" that acknowledged the correctness of the straight red. But because I also felt there was not "a shred of malice" in Shawcross's tackle - recklessness does not need to involve intent - I found myself abused by some Arsenal supporters who also dredged up old grievances against Sunderland.

So I was asking for trouble when, for an interview with a Stoke supporter - my fellow ESPN blogger James Whittaker - on his thoughts about his team's game against mine on Saturday, I posed this question:

"Stoke still cannot quite shake off the association with so-called 'anti-football' and Arsenal fans seem especially contemptuous. How unfair do you find this and how much do you care?"

This was James's response:


It's a sore subject for Stoke fans, more specifically around Arsenal (we know that our style is quite basic) I don't particularly care what people think but when Wenger started his crusade, having lost a couple of times against us, people sadly stood up and listened, especially the Arsenal-loving journos who see them as purveyors of the fine game. It was Wenger who started it all and following the Ramsey broken leg it only got worse as our reputation was dragged through the mud at any opportunity. Thankfully Arsenal have maintained their level of mediocrity despite 'playing football how it should be' and Chelsea's triumphs against the likes of Barca, beating the Catalan giants with less than 30% possession, almost turned the tables a bit on Arsene.


One Arsenal follower retorted that it was easy to see why people disliked Stoke: "They lack class and the football they play is some of the worst you're likely to see anywhere in Europe. When Arsenal played them at the start of the season I remember the time wasting starting from the 12th minute. Also they seem to think they are a hard as nails, blood and cuts team who can steam in to every challenge, but as soon as a Stoke player is touched they dive around like mad ..."

Now I cannot afford to be too critical of Stoke's detractors, having been angered enough by Mr Pulis's ultra-physical tactics when Sunderland lost 3-2 at the Britannia in the season before last to write of the referee: "He utterly ignored the bullying of Craig Gordon by the big, hard men - I almost wrote thugs - of Stoke at set pieces. He spotted every Sunderland infraction but missed several from Stoke."

But I did feel a hint of sympathy for my Stoke interviewee James when he accepted my invitation to answer those Arsenal fans determined to prolong the feud.

After nasty setbacks at Carrow Road in the Premier League and at home to Schalke 04 in the Champions League, red-supporting north Londoners of a sensitive disposition may wish to avert their eyes rather than see James describe them in these terms: "It's sad really, they must be upset at getting tanked at Norwich and in Europe, whilst paying more than any other football fan in the country ... any player who is half decent leaves as quick as they can."

You do not need the sharpest grasp of modern football to question the notion that Arsenal exclusively play sweet, above-board and flowing football without the least hit of aggression. And only blinkered oafs would argue that Stoke are incapable of producing attractive moves.

But mindful of Lee Cattermole's post-suspension availability for selection, and James's candid acknowledgement ("we know that our style is quite basic)", I would struggle to fault a cynic who suggested that while Stoke City v Sunderland has all the makings of a marriage of like-minded souls, it may not be one made in heaven.