Great to win - but should we make derby day draws compulsory?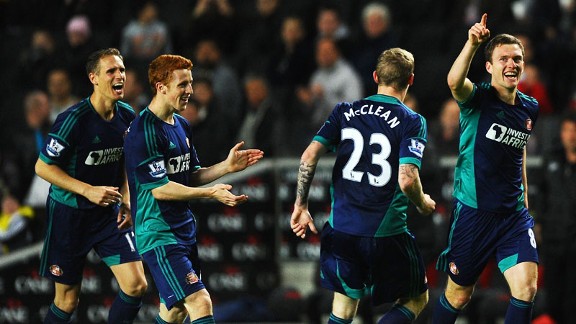 GettyImagesSunderland celebrate their win
To a certain kind of football supporter, notably one whose team has not won a major trophy in decades, living in the past is not an option but a necessity.

For followers of Sunderland, the need is acute. As derby day approaches, most could probably tell you the joint biggest away win in the English top flight was their team's 9-1 victory at St James' Park. But that was in 1908 and the year tells its own story, just as my little boast that Sunderland have been English champions six times overlooks the inconvenience that half the titles came in the century before last.

In order to find a supporter who was a witness to the club's last proper championship, the starting point is someone in their very late 70s. Even then, given that it happened in 1936, he would have been a rather precocious supporter, attending games at two or three.

Glory at Wembley in 1973 - meaning a 40th anniversary is, unbelievably, on the horizon - represents the brightest moment since those distant times. The so-called Bank of England team of the 1950s had briefly promised another era of success but led only to financial scandal and the first relegation in the club's history.

Post-'73 highs? Two successive Premier League finishes in seventh place, the thrill of eight promotions, four losing returns to Wembley (FA Cup, Milk Cup and two playoff finals) and repeated brushes with relegation. The number of promotions gives its own clue as to how several of those scrapes ended.

The Toon Army has had more recent cause for happiness, with no fewer than eight top six spots, twice as runners-up, since 1994. There was a minor European trophy, the Intertoto cup, in 2006 and - barely more significant - the Inter-cities Fairs Cup back in 1969, but the Magpies' last top-flight championship was 85 years ago.

The glaring gaps in the honours lists for both clubs have no real effect on the fervour with which each set of supporters approaches the Wear-Tyne and Tyne-Wear derby games.

Let us ignore, if we can, the mindless idiots who are not content with healthy rivalry and banter but harbour real hatred that can easily translate into violence.

Even among more rational supporters is a belief that this is the biggest derby in English football. And if there is evidence from north London and the North West to challenge that notion, only a fool would deny the strength of feeling these fixtures generate.

Much of football as a whole will show only passing interest in what happens at the Stadium of Light on Sunday afternoon. But for many more than the 48,000 or so present inside the ground, the outcome will be of enormous importance, leading - unless the match ends in a draw - to days if not weeks of extravagant gloating and abject misery.

Each tribe has crucial reference points. Sunderland fans cherish memories of famous wins at St James' Park, including one involving a Gary Rowell hat-trick in 1979, another in torrential rain that toppled Ruud Gullit as manager 20 years later and a splendid Kieran Richardson free kick that secured a home win in 2008. Their Geordie adversaries gleefully counter with the 5-1 scoreline as recently as 2010, not forgetting last season's victory at the Stadium of Light.

My record with predictions so far this season is wretched. I will doubtless hazard an optimistic guess before kick-off but, in recognition of the almost unbearable tension that mounts as matchday approaches, I prefer for now to quote the words of a Newcastle supporter, the author and broadcaster Keith Topping.

Keith once offered me his novel cure for the stress of derby day:


"I don't really like derby matches. I have to be honest. I know the atmosphere is good … and, if you win it's, like, the greatest day ever. But it really is a 'so much at stake' thing. I mean, I work in an office three-quarters full of Mackems. I know the true cost of defeat on a highly personal level. I tend to have the attitude of just wanting to get them out of the way, have two 1-1 draws and then get on the rest of the season."


You know, I'd go along with that - if only I didn't know that a few days after saying it, Keith was celebrating that 5-1 rout.