Honour, pride and trepidation as Steven Fletcher's Scottish exile ends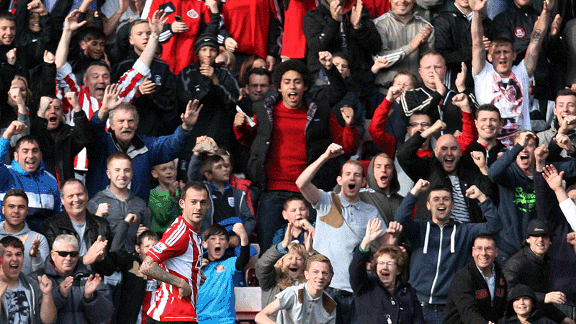 EmpicsStephen Fletcher's impact at Sunderland has earned Scotland call
Five goals in four games, doubters silenced and, now, a recall to the Scottish international squad after two years of exclusion he brought upon himself. Leaving aside a stiff fine and six-month driving ban this week for speeding, life is going well for Sunderland's new striker Steven Fletcher, that £12m-£14m price tag suddenly looking a lot less outrageous.

So what was the first Sunderland response I saw to news that Fletcher had made his peace with the Scottish manager Craig Levein and been included in the squad for World Cup qualifiers against Wales on October 12 and Belgium on October 16? "*****!" said Neil, one of my fellow-subscribers to an e-mail loop for supporters scattered around the world (except that he didn't use asterisks).

"The last thing we need is for him to be playing for that load of cobblers and getting tired/injured. It's not like his confidence needs a boost... "

If I am completely honest, the same thought had occurred to me. We have gone from righteous indignation at our players being overlooked, as seemed to happen almost systematically for decades, to sheer horror that they have not. In fairness, both Neil and I recognise the mixture of hypocrisy and self-interest at play. We long for international managers to see the merits we identify in members of Martin O'Neill's squad but, in these emphatically club-before-country times, shudder at the prospect of capped players returning to the North East wounded or worn out.

Only the older fans can recall the sense of injustice felt when Brian Clough, a prolific goalscorer with no shortage of self-confidence, was ignored by Walter Winterbottom during the Sunderland part of his career (there had been two England appearances in 1958 when he was with Middlesbrough). Sir Alf Ramsey's subsequent failure to select our goalkeeping hero, Jimmy Montgomery, for the 1970 World Cup in Mexico, added salt to the wounds.

In fact, looking back, neither decision was remotely perverse; Clough, good as he was, scored all but one of his Sunderland league goals in the old Second Division and Sir Alf could hardly be faulted for preferring Gordon Banks, universally regarded as one of the greatest keepers of the 20th century.

Much more recently, Kevin Keegan enraged the Sunderland faithful with his treatment of Kevin Phillips, stuck on the bench throughout England's dismal Euro 2000 campaign even after 30 Premier League goals had brought him the European Golden Boot award, an honour no other Englishman has won. At the time, having attended each of the three group stage games that led to England's early exit, I was frankly relieved that our SuperKev's status as unused substitute had spared him any guilt by association.

Twelve years later, I share the apprehension felt by many supporters each time one of our men heads off for an international. Adam Johnson managed to get injured on England duty without even playing, picking up a thigh strain in training for the Moldova game and having to pull out of the squad and limp back to Sunderland.

On the other hand, I take pride in Sunderland's impressive list of capped players, 15 at the last count even if we do not include Ahmed Elmohamady, on loan to Hull City. If Fletcher is chosen to play, he could face two of them, Simon Mignolet and David Vaughan, in the games against Belgium and Wales respectively later this month.

In truth, O'Neill's squad should be strong enough to accommodate the odd injury picked up when players represent their countries.

And whatever the detail of the conciliation process, I am genuinely delighted for Fletcher that he has proved open to reason quickly enough to make a mockery of my assertion here a month ago that he "stands no chance of being selected for Scotland as long as the manager is Craig Levein".

But given the immense contribution the striker has made to Sunderland's unbeaten start to the season, Neil and I - plus a good few thousand others - can be forgiven for praying nothing happens to stop him helping us to a morale-boosting victory over Newcastle United in the Wear-Tyne derby that immediately follows the international break.