Sunderland's rout of Newcastle keeps Poyet on course for a miracle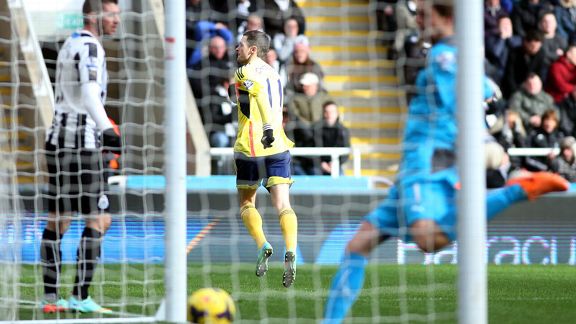 APAdam Johnson wheels away after doubling Sunderland's lead at Newcastle.
If the successive 2-1 away wins at Newcastle seemed a remarkable achievement for Sunderland under Peter Reid, hammering the Magpies 3-0 at St James' Park two seasons running belongs to the world of football fantasy.

But however often Sunderland supporters pinch themselves to check they are not dreaming, the result remains: Newcastle United 0-3 Sunderland.

For the first time in nearly a century, the margin of away victories in Tyne-Wear derbies has been at least three goals from one season to the next. And the most recent of those wins, in one of Saturday's early games, was as deserved as the demolition in April last year that had Paolo Di Canio slithering along the muddy touchline in his Armani suit.

- Brewin: Three Things: Newcastle vs. Sunderland
- Ryder: Newcastle go down without a fight

Gus Poyet has his own ways of showing delight but will understandably be a proud man after a magnificent, disciplined team effort that not only swept aside rivals who have outperformed them all season, but completed back to back Premier League wins that now make survival an altogether realistic objective.

Having also booked his side a Wembley appearance for the Capital One Cup final, he will surely be a runaway leader in the manager-of-the-season stakes if he finishes the job of keeping Sunderland up. It looked beyond him before Christmas; now he is making a mockery of Di Canio's recent suggestion that the team had done no better under Poyet than it did until his own dismissal.

This was a performance that did not depend on Newcastle playing poorly, though they were deeply unimpressive in key phases of the game. It was built on a solid base of 11 men, and I mean all 11 who started for Sunderland, doing their jobs to near-perfection.

The back four -- Phil Bardsley, John O'Shea, Wes Brown and Marcos Alonso -- was outstanding in front of a dependable keeper, Vito Mannone. The midfield anchor of Jack Colback, Ki Sung-Yueng and new boy Liam Bridcutt held firm and inspired repeated counter-attacks when Newcastle pressed. And Adam Johnson's run of scintillating form continued with a simple but well-taken goal, swept in after Tim Krul could only push out Colback's shot, and a jinking run that deserve better than for his angled shot to hit the post.

Fabio Borini again showed the kind of coolness, persistence and skill that raises questions about Liverpool's decision to allow him out on loan and the much-criticised Jozy Altidore had his finest game for Sunderland.

The big American's' bustle and intelligent lay-offs presented a constant headache to Newcastle's defence, suspect throughout the game; what a shame he could not grab the goal he merited when one-on-one with Krul, instead being dispossessed as he tried to dribble past the keeper. That was a seriously good chance, but Altidore did well enough to give his confidence a major boost. Perhaps the presence on the bench of Poyet's newly-signed Argentinian striker, Ignacio Scocco, hungry for Premier League action, concentrated his thoughts.

Colback later praised the game-turning qualities of Johnson but gained late reward for his own impeccable game when Borini found him on the left and a classy finish gave Krul no chance.

There was no comparison between the nerve-jangling win against Stoke City in midweek and this romp. Sunderland's away record was abysmal before Christmas but three wins since -- at Everton, Fulham and now Newcastle -- suggest the challenges on the road between now and May need no longer be seen as insurmountable. With a number of bottom-half teams still to visit the Stadium of Light, Poyet must find the motivational power to inspire his players to show more conviction and strength at home.

The transfer window was an encouraging one for the Uruguayan head coach. Alonso looks a splendid addition and Bridcutt, after his slow start at St James' Park, made a useful debut for a man, straight from the Championship, who had not played since New Year's Day. And Scocco can hope to get his chance in at least part of next week's home game against Hull City.

The tightness of the bottom half of the Premier means that even as notable a win as Sunderland's at Newcastle may not lift the club by as many places as hoped. But the Poyet revival is well under way; should he accomplish the improbable rescue act for which he was hired, owner Ellis Short's next task will be to work out how to keep him.