Home truths cannot obscure a massive win
The straightforward news value of Sunderland's narrow, nervous win over Stoke City is that the three points take Gus Poyet's team out of the bottom three for the first time since August, long before the Uruguayan replaced Paolo Di Canio.

The result was what mattered to all but a few hundred visiting fans among the 34,000 supporters who turned out at the Stadium of Light on Wednesday, although most hoped for a rather more comfortable passage out of the relegation zone. In the end, though, they were grateful that it happened at all.

- Sunderland out of the drop zone

The awkward truth is that, despite starting positively and scoring after 25 minutes through Adam Johnson, and irrespective of enjoying a one-man advantage from early in the second half after Steven N'Zonzi collected his second yellow card, Sunderland made desperately hard work of hanging on to the lead and might easily have forfeited not two but three points.

Vito Mannone, who had another inspired display in goal, should not be the man of the match in a Sunderland home game against similarly lowly opposition. He was though, by some distance, with faultless handling throughout and a string of magnificent saves when they were needed.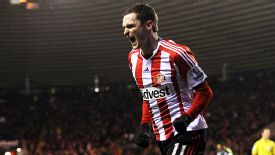 GettyImagesJohnson celebrates after his rich vein of form continued against Stoke.
The goal at Stoke's end came when Fabio Borini's shot was saved by the diving Asmir Begovic and Johnson was quick to the loose ball, turning it in from the tightest of angles. Johnson and Borini were instrumental in most of the good things Sunderland did going forward, but it would be dishonest to suggest there were many of these.

The less obviously newsworthy aspect of the game was the continued ineffectiveness of Jozy Altidore. Service was again poor but on the one occasion he had clear sight of goal, with only Begovic to beat, his finish was below par. The Stoke keeper deserves credit for the save but he should not have had the chance to make it.

That the big American striker sorely needs a goal to raise his spirits is beyond question. He was directly involved in the incident that saw N'Zonzi sent off but, with the greatest respect to the local radio commentary team, that is not the sort of contribution it is seemly to crow about as they did.

The best that can be said on Altidore's behalf is that after he was withdrawn on 67 minutes, Steven Fletcher did no better as his replacement, though he too received little help from teammates.

But Altidore was not alone for this was a deeply disappointing team performance following the progress of recent weeks. Mark Hughes will scratch his head raw at his team's failure to take something from the game.

Poyet will be relieved although there have been times when Sunderland have lost or drawn this season in unfortunate circumstances so the Uruguayan may argue that a spot of luck was overdue.

How he now deals with his unimpressive strike force is another matter. Goals from midfield have never been more in demand -- Johnson was closest to doubling the lead with a shot that flashed past the post -- but Fletcher and Altidore currently have much to prove unless there is a huge breakthrough before the transfer deadline.

Reports suggest the Argentinian Ignaccio Scocco, present at the match, is on the verge of signing and Poyet must hope he provides at least part of the answer.

The news from White Hart Lane on Wednesday night, where Capital One Cup final opponents Manchester City thrashed Spurs, will not have been lost on Sunderland supporters but that is for the future.

On Wednesday, the significance of the three points won by Sunderland greatly outweighed the manner in which they were gained. With another momentous match imminent -- Saturday's Tyne-Wear derby at Newcastle -- Poyet's men have another opportunity to show the strides made so far towards safety are more than baby steps.