Sunderland humble United as Mannone claims honours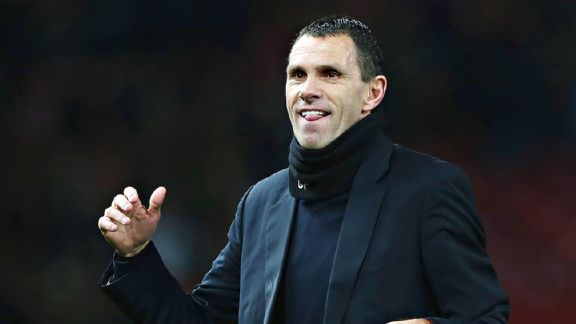 John Peters/Getty ImagesA grinning Gus Poyet has Sunderland on the brink of the club's first trophy since 1973.
In the style of the satirical magazine Private Eye, these pages have an apology to make. We are sorry if the impression has ever been given that we believe penalty shootouts to be a mere lottery, an unworthy manner of settling great sporting contests. This is not the case, as we now freely acknowledge: when Sunderland win, shootouts sort out men from boys, offering excitement and drama of the highest order.

Manchester United 2-1 Sunderland. Sunderland win 2-1 on penalties

- Jolly: Three things: Man United vs. Sunderland
- Report: Man Utd 2-1 S'land (1-2 on pens; 3-3 agg)

It would be a serious understatement to say I saw little reason to expect, as a grim season inflicted one misery after another, that Sunderland would be preparing for Wembley before January was out.

The triumph over two legs of the Capital One Cup semifinal against Manchester United, less than mighty as the Red Devils may have become, is a remarkable achievement. Gus Poyet and his team fully deserve their place in the final against Manchester City.

A mountain stands between Poyet and the trophy. Sunderland are rooted in a desperate relegation struggle; City are being touted as possible quadruple winners, so well placed are they in the league, both domestic cups and the Champions League. Poyet summed it up after Wednesday night's Old Trafford epic when he said Sunderland's best hope probably rested on City having an off-day.

A 2-1 lead from the first game at the Stadium of Light looked rather slender as the second leg kicked off. But at no stage of this game did Sunderland seem to be overwhelmed. There were breaks at both ends in the first half-hour and only a lapse of concentration permitted United to take the lead in the 37th minute.

Jonny Evans, a revered figure at Sunderland during two loan spells, was able to charge through the penalty box unchallenged to be on hand to head home when Danny Welbeck's utterly mishit shot bounced kindly for him.

Javier Hernandez had an excellent chance in the second half to put the tie out of Sunderland's reach, but his finishing let him down with only Vito Mannone to beat. Crucially, that was a counter-attack; Sunderland were pressing more and more, without ever quite having enough guile or thrust to force an equaliser.

The game went into extra time. United had only to hang on to the 1-0 advantage to go through after 120 minutes. I am not sure how often they played for time at Old Trafford under Sir Alex Ferguson, but it happened as the minutes ticked away in the second 15-minute period.

Then Phil Bardsley, a Salford boy from a United-supporting background and a man who was on United's books early in his career, hit a low shot from the edge of the area. United goalkeeper David De Gea fumbled the ball which spun off him and into his right corner. Sunderland were surely through. They were not. Almost immediately, Hernandez swept a cross past Mannone and penalties loomed.

The drama was not over. Craig Gardner, usually so dependable from the spot, blasted his shot over. Welbeck did the same. Steven Fletcher could do no better, De Gea easily saving his weak kick. When Darren Fletcher scored the next penalty, I feared the worst. But one miss and two Mannone saves saw Sunderland through, Marcos Alonso and Ki Sung-Yueng scoring with composed kicks to make up for a third Sunderland miss, by the hero of recent games, Adam Johnson.

United moaners will blame David Moyes -- I heard complaints that being taken to extra time by "minnows like Sunderland" was shameful -- but I suspect he will get it right, if given time. Poyet already has it right, in the cups especially and, in a more modest way so far, in the Premier League.

A noble performance against Man City in the final is all Sunderland fans can realistically look for. But their team has proved four years running that this is a side they can beat, albeit only at home. That off-day Poyet spoke of, or a sensational one for Bardsley, Mannone, Johnson & Co., could inspire another surprise.

But even more important, if I may allow sobriety to calm the intoxicated ecstasy of a grand night to be a follower of Sunderland AFC, is how this superb run in the Capital one Cup rubs off on league displays. It must be a springboard for upward progress, not an excuse for further setbacks that could be blamed on fatigue and leave survival in serious jeopardy.

From the glory of Old Trafford to the mundane workaday business of a fourth-round FA Cup game against Kidderminster Harriers on Saturday. I want Sunderland to win every game in which they take part, but I see a strong case, with a Premier game against Stoke City coming along next Wednesday, for putting bit-part players and young hopefuls in charge of grabbing that win.