Curse of starting poorly hampers Sunderland's safety battle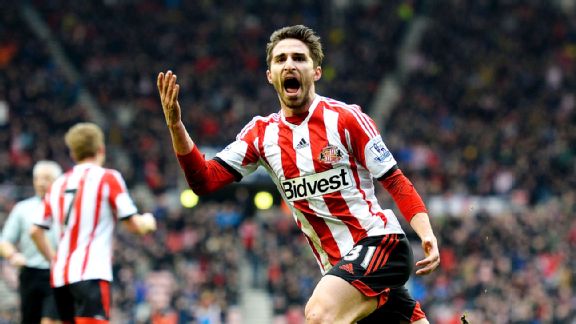 Laurence Griffiths/Getty ImagesFabio Borini's goal swung momentum in Sunderland's favour in their 2-2 draw with Southampton.
As Southampton outclassed Sunderland for much of the first half on Saturday, I kept reassuring myself that the process of bouncing back from a catastrophic start to the season is bound to be slow.

But with Gus Poyet's team making recent victories look freakish, the nerves began to fray. That they managed to salvage a point, with chances to make it three, at least kept hope alive and not just on a life support machine.

- Report: Sunderland 2-2 Southampton

Admirable a job though he had done, Poyet cannot be expected to work miracles with the limited squad he inherited. What he has managed to exploit are the endless reserves of commitment and endeavour the players are capable of showing when managed sensibly, which is to say when not managed by Paolo Di Canio.

The cause was done only a modest service by ending this game with a draw that earlier seemed impossible. There are frankly unwinnable games to come from now until May, and visits from opponents in high mid-table and below simply must produce victories.

Almost every negative cliche in football seems to apply to Sunderland: "Don't score too early -- it'll only make them angry." "Can't play well for two halves." And, on Saturday, "at two down, you'd take 2-2".

A team with greater killer instinct, to go with all that never-say-die grit, would see a 71st minute equaliser as the springboard for a dramatic late win. In the event, either side could have snatched victory, chances falling at each end until the dying moments of seven minutes of stoppage time.

A referee in less charitable mood than Chris Foy, or maybe just having a better view, might have required Sunderland to finish the game with 10 men. Wes Brown's tackle on Gaston Ramirez was a ball-winner, but looked less fair on replays than it seemed at first glance -- the only glance available to Foy -- and the Saints player was taken to hospital. The same fate befell another of Maurice Pochettino's team, Dejan Lovren, injured in a straightforward collision with Craig Gardner.

The game had started as badly as the season. Sunderland defenders missed ample opportunity to clear the ball before it fell to Jay Rodriguez who calmly beat Vito Mannone to give Southampton a fourth-minute lead. The Saints' dominance was embarrassing, sufficient for Lee Cattermole to pick up one of those bookings he seems to regard as part of the job description when opponents seize and keep possession with such ease. A Cattermole playing most of a match on such a tightrope is invariably a less effective Cattermole.

As night follows day, the lead was doubled after 31 minutes. But at last, Sunderland began to play. Fabio Borino pulled one back almost immediately and the game suddenly looked different. The second half saw much greater purpose, better passing and a number of threats to Artur Boruc's goal. Ki Sung-Yueng, previously a shadow of the man who did so much to secure the 4-1 victory at Fulham, regained his assurance on the ball and began to find Adam Johnson, the hat-trick hero at Craven Cottage, in space on the right.

Johnson is one of the rare exceptions who, on his day, makes light of the overall quality gap between Sunderland and upper-table teams. His runs worried Southampton and lifted the home crowd. When Borini found the net for a second time, only for the goal to be correctly denied for offside, it was clear an equaliser was coming. Johnson provided it in style with a breathtaking shot from a difficult angle.

Steven Fletcher, replacing the hapless Jozy Altidore, went close to grabbing a winner that would undoubtedly have flattered Sunderland, not that this would have mattered to most of the 38,000 present. And Southampton had openings of their own at the other end.

Poyet was philosophical in his post-match missive to supporters: "We couldn't cope with them during the opening half hour, but then we gave a good 60 minutes -- going forward, pressing, trying to score, the disallowed goal, then we score again and then we kept going."

There was also a reality check: "I know we want to win at home and we want to beat everybody and put seven wins together and just get away from the bottom, but it's not that easy because the opposition plays in their own style and Southampton are a very difficult team to play against."

Poyet is justified in seeing one defeat in 10 games -- all competitions, unfortunately -- as a decent return given the state of the team he took over from PDC. Now, there's a glimmer of a chance of booking a trip to Wembley in Wednesday's league cup semifinal decider at Manchester United, followed by the more prosaic business of Kidderminster Harriers in the FA Cup on Saturday before Premier action resumes with an utterly vital midweek home tie against Stoke City.

The short break from league action means that no further upward progress from the relegation zone is possible for now. Yet even trying to defend a 2-1 advantage at Old Trafford may be better for the nerves.