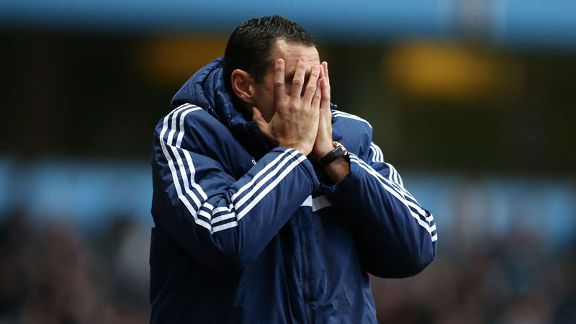 PA PhotosGus Poyet reacts to Emanuele Giaccherini missing a golden chance for Sunderland.
We have been this way before. Earlier this year, I wrote on these pages about an important Sunderland home game against Southampton, which had followed another important game at home to Stoke City.

With those eminently winnable matches, Sunderland under Paolo Di Canio had the chance to end a rotten season by clinching their own Premier League safety.

They drew both, and went on to lose the final game at Tottenham Hotspur, that result having no importance to either club; Arsenal grabbing fourth position to deny Spurs a Champions League place and Wigan having already been relegated after failing to turn FA Cup euphoria into an unlikely escape act.

It is far too early in the current season for the outcome of Saturday's visit of Southampton, or the next league game (coincidentally at home to Stoke), to be decisive. But the course of Gus Poyet's mini-revival depends far more on his team's ability to grab precious home points from both ties than on whatever happens in the Capital One Cup semifinal second leg at Old Trafford next Wednesday.

A trip to Wembley would give a wonderful psychological lift to supporters who, year after year, see hopes flicker and fade, the fear of of relegation hanging gloomily over the Stadium of Light for at least part of every season, except the two ending in promotion from the Championship, since 2001-02. Staying in the Premier League must be the bigger goal.

Southampton make the journey north -- their followers condemned to an overnight stay or absurdly early start for a 12.45am kickoff -- in some disarray with the departure of the chief executive Nicola Cortese and serious doubt over the future commitment to the club of the manager Mauricio Pochettino and some of his best players.

Sunderland should dismiss from their minds any belief that the Saints therefore present an easier challenge. Results have been slightly disappointing after such a bright start to the season but Southampton remain ninth, the seven-point lead over Hull City being a point more than what separates the entire bottom half. They have more than vindicated Cortese's controversial decision, now widely seen as a masterstroke, to replace the popular Nigel Adkins with Pochettino a year ago.

Sunderland looked a far more accomplished side in the 4-1 win at Fulham than in almost any game this season. This undoubtedly owed rather a lot to the deficiencies of opponents as poor as any encountered so far. But the quality and pace of the counter-attacks must have given Poyet great encouragement, as it most certainly did the large away following.

Talk of Adam Johnson forcing a way back into England contention was laughable on the strength of a brief but crucial cameo against Man Utd in the league cup, followed by the hat trick at Craven Cottage. On his own admission, his form has been disappointing since his move from Manchester City. Games in which he has shone have been outnumbered by stinkers.

But against Fulham, he built on his lively second-half showing against Man Utd with a display full of desire and flair.

In a -- so far -- quiet transfer window, such transformations in form among existing squad members can be as heartening as any new signing. But Marcos Alonso, Poyet's first capture in a loan deal with Fiorentina, has made an immediate impact. I continue to believe turning Ki Sung-Yueng's loan move from Swansea into a permanent deal is as big a priority as any facing Poyet and the Sunderland owner Ellis Short, though the arrival of a new striker and another creative, attacking midfielder would be mightily welcome.

My belief that Alonso would join Sunderland and that the inexplicably sidelined Cabral would depart (on loan to Genoa) have already been proved correct, though both moves were easy to predict. Sunderland could usefully offload more fringe or forgotten men -- Craig Gardner, David Vaughan and Modibo Diakite spring to mind -- to help facilitate the signings of such South American targets as Internacional's Ignacio Scocco and Santiago Vergini from Estudiantes. But any approach from Man Utd for Poyet's first-choice keeper, Vito Mannone, must be repelled.

An interesting discussion among ESPN FC pundits raised the possibility of the goalshy Jozy Altidore making a big-money switch to the MLS.

Despite suggestions that he may need a change, Altidore should stick it out and take heart from the number of times he has played some part, actively or by tying up defenders away from the ball to create Sunderland attacks. He was involved in both Sunderland's second-half goals at Fulham after replacing Steven Fletcher. Both strikers have found goals of their own elusive and it may be a serious test of Poyet's man-management powers to convince them they can regain their scoring instincts.

Recent signs of improvement do not make Poyet wrong in wishing to strengthen the squad after the suicidal start to the season. I would merely urge him to devote equal effort to keeping key men and bidding farewell to passengers.