Back down to Earth at Fulham as cup euphoria fades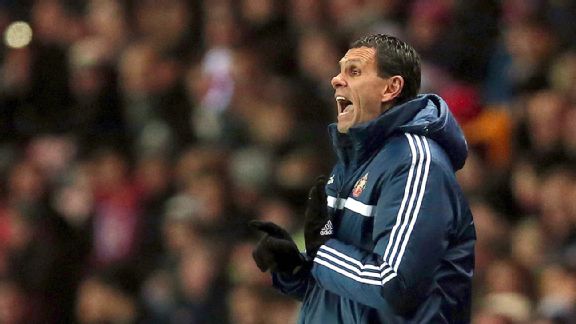 Ian MacNicol/Getty ImagesGus Poyet's Sunderland hope to ride the wave of Capital One Cup success into Saturday's fixture with the Cottagers.
Probably the second best thing to happen in the professional life of Gus Poyet this week was the merciless assault by Manchester City on West Ham United.

Sunderland's 2-1 defeat of Manchester United on Tuesday will have given him the greater satisfaction. But he has reason to be thankful that the 6-0 savaging of the Hammers quickly overtook it as the chief talking point of the first legs of the Capital One Cup semi-finals.

- Report: Poyet: Johnson can be the difference

Rarely can it have been more important to bring players down to earth after a notable victory and to prepare them for an arguably bigger match.

It is possible, but hard all the same, to exaggerate the significance of Sunderland's trip to Craven Cottage to face fellow relegation strugglers Fulham on Saturday. Forget the dreams of Wembley that still depend on the small matter of clinging to a slender advantage when the second leg is played at Old Trafford on January 22. Fulham away is, for the greater good of Sunderland AFC, as big as a cup final.

Hopes of success and fears of failure should not rest on a single game at this stage of a season with so many more points still to play for. But as early as December 21, my co-contributor to these pages, Pete Sixsmith, identified that day's home game to Norwich City as the one that would define Sunderland's season.

If he was right, then Sunderland are down already. The match ended goalless. Worse, it was to be followed in the home programme by Aston Villa's visit on New Year's Day, when a dreadful error by Lee Cattermole allowed the visitors, described by Sixsmith as "among the poorest seen at the Stadium of Light in the past 12 months", to take all three points.

Indeed, that return of one point and no goals from two home ties against modest opposition would have been enough, psychologically, to confirm Sunderland's probable fate had it not been for the win and draw, sandwiched between them over Christmas, at Everton and Cardiff.

Two winning cup games on from the defeat to Villa, the need for league points is acute. Even a win at Fulham cannot take Sunderland out of the bottom three, though they could rise to 18th if West Ham and Crystal Palace lost their games at Cardiff and Tottenham, respectively.

The heartening news for Sunderland is that while it is necessary for the euphoria of beating Man United to give way to discipline and resolve, there is nothing wrong with taking a measure of self-confidence from the result. Defensively, the team were tighter than at almost any stage this season, with John O'Shea and Wes Brown reunited in the middle after interruptions from injury (O'Shea) and suspension (Brown), while Phil Bardsley hit the kind of form that made him a player of the season a couple of years ago. Then there was the debut of Marcos Alonso, recruited on loan from the Serie A side Fiorentina; a man of the match display among many fine performances, with attacking skills to complement assured defending.

Goals remain a problem; the two on Tuesday coming from a Ryan Giggs own goal and the penalty spot. But with Fulham fans anxious about their own side's defensive frailties, Steven Fletcher and especially Jozy Altidore must at last start taking the chances that come their way.

A draw would be of relatively little use to either club, but would displease Fulham -- currently fifth bottom -- less than it would Sunderland.

After Craven Cottage, Sunderland have 17 further games in which to fight for survival. Realistically, they include encounters at leading clubs from which no points at all will be the most likely outcome. If the battle is to be won, the immediate run of ties against teams from below the top eight must produce some wins.

It would be a crying shame if a season rich in promise in two cup competitions were also to end Sunderland's latest era of Premier League football. I was too young to be properly aware of the symbolic magnitude of the first relegation, in 1958, the club having never until then played outside the top flight. Unfortunately, I have witnessed each of the eight that have followed, from 1970 to 2006. Take my word for it: you never acquire the taste.