Sunderland inflict further misery on Man United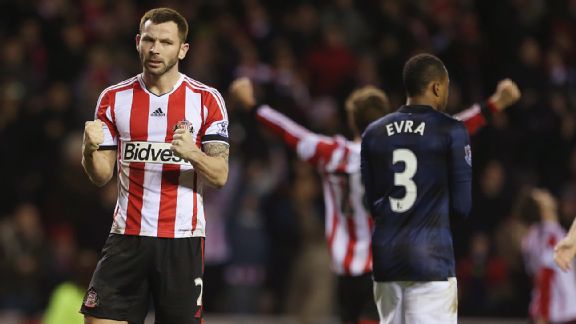 Matthew Peters/Man Utd/Getty ImagesPhil Bardsley and Sunderland came through in the clutch to down United 2-1.
Happily, Sunderland put on another tremendous cup display to defeat Manchester United and bring one step closer the prospect of a Wembley trophy for the first time in 41 years.

Sadly, beating United no longer has quite the ring it had. Everyone's doing it, or so it seems.

- Report: Sunderland 2-1 Man United

But do not let United's sorry form -- three successive defeats, out of the FA Cup, lagging well behind in the Premier League and unlikely to achieve much more in the Champions League -- detract from a fine, spirited effort from the team occupying bottom place in the league.

Sunderland's former United defender, John O'Shea, admitted afterwards that the same application and results were long overdue in the fight against relegation. Wigan, looking back, will surely wish they had preserved Premier League status rather than winning the FA Cup and going down. Yet this was precisely the sort of performance and outcome to put smiles on faces and inject real confidence ahead of the league battles to come.

The first half was even, United dominating for spells but Sunderland threatening David de Gea's goal often enough to raise hope at the Stadium of Light. Almost on the stroke of halftime, the breakthrough was made when Seb Larsson's free kick led to a move involving Wes Brown and Phil Bardsley, both Old Trafford old boys, before their former team-mate Ryan Giggs put the ball into his own net.

I swear that the early second-half equaliser from Nemanja Vidic, heading home with ease when a corner was poorly defended (how often do Sunderland supporters see that happen?), came immediately after I remarked that Gus Poyet's team always look vulnerable at this stage of a game.

But Poyet responded admirably, replacing Emanuele Giaccherini with Adam Johnson, who proceeded to torment the United defence with direct running. One breathtaking charge took him into the box and down under Tom Cleverley's unwise challenge. My first thought was that Johnson would be booked for diving; it was that close a decision. But the referee, Andre Marriner, rarely accused of favouring Sunderland, looked across to his assistant and gave the penalty.

Fabio Borini blasted home the spot kick, making him the match-winner just as he had been on two other important occasions this season, at home to Newcastle United in the league and in the last round of the league cup against Chelsea. Larsson had already squandered a terrific chance to restore Sunderland's advantage and the goal was no more than deserved.

There was some resolute defending to do at the other end to keep the lead intact, but also some useful counter-attacking that might have brought the added comfort of a 3-1 win. And United could easily have been down to 10 men shortly after the penalty when Rafael da Silva, booked for his animated dissent at that award, narrowly escaped a second yellow for a bad challenge that would, beyond reasonable doubt, have been punished with more than a free kick and final warning had his name been, say, Lee Cattermole.

Sunderland players know it, Poyet knows it, the fans know it. Another heroic resistance later in the month at Old Trafford -- producing a March trip to Wembley -- would be a wonderful morale booster. But even more important work must now be done at the wrong end of the Premier, starting with Saturday's visit to Fulham.

The bottom half of the Premier is so closely contested that a string of winning performances would lift Sunderland from rock bottom to somewhere closer to mid-table.

And Poyet can take heart from the highly encouraging debut of his new loan acquisition from Serie A, Marcos Alonso. His healthy combination of strong defensive qualities and attacking flair are just what Sunderland have been missing since Danny Rose returned to Tottenham Hotspur after his loan last season.

The Uruguayan continues to impress in his first Premier season as a manager. If he can build on the emotional lift of passionate cup wins, and lead his team out of danger, he will not only have worked a small miracle but, in all probability, qualify for the freedom of Sunderland, reputedly entitling him among other benefits to drive a flock of sheep across the Wearmouth Bridge.