New year, same problems for Sunderland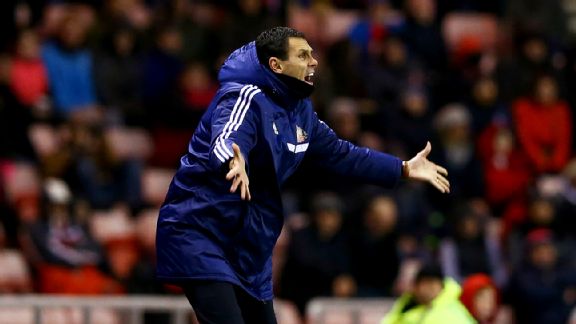 Matthew Lewis/Getty ImagesSunderland manager Gus Poyet endured another frustrating afternoon in his side's 1-0 loss to Aston Villa.
Everyone makes mistakes, Gus Poyet said publicly after yet another home defeat for his Sunderland side put a dismal end to the recent mini-revival.

What he had already said for the private consumption of Lee Cattermole, his captain, after an atrocious error handed three points to Aston Villa, may not have reflected the same generosity of spirit.

- Report: Sunderland 0-1 Aston Villa

Most of Cattermole's wayward actions involve some latest show of indiscipline bringing him inevitable yellow or red cards, or the attentions of police officers. Every so often, he does something unbelievably stupid and damaging without necessarily infringing football or society's rules. His way of marking the New Year was to miscontrol the ball on the edge of his own penalty area, allowing Gabriel Agbonlahor to dispossess him, round Vito Mannone and score.

That was in the 15th minute. Until then, Sunderland had been in command, chances being missed by Steven Fletcher, Emanuele Giaccherini and Ji Dong-Won. The goal, and perhaps the manner in which it was conceded, knocked the stuffing out of the home team and Villa thereafter looked much more likely to extend their lead than to surrender it.

The blunder would not have surprised anyone familiar with Sunderland's play this season. Even the slicker passing encouraged by Poyet has failed to eliminate the lamentable lapses of concentration that have seen the ball given away meekly to opponents, week after week and often in dangerous areas.

Poyet, according to one Sunderland supporter of my acquaintance, looked at the end of this wretchedly disappointing game like a "broken man".

That may be an exaggeration. But he had certainly been given an unwelcome reminder that nothing too much can ever be read into a couple of half-decent performances. There is always, it seems, a painful let-down around the corner.

Sunderland's players deserved the plaudits they received for the 1-0 win at Everton on Boxing Day and the fighting draw at Cardiff two days later. In the position they find themselves, bottom of the Premier League, four points from two away games is a good return; the same four points from three is utterly inadequate.

Regular visitors to these pages will know I have made full allowance for the cruelly challenging run of home games against top-six contenders, covering all but two of the first eight league games at the Stadium of Light. But that run ended last month. The "easy" games have started and the first two, against Norwich City and now Villa, have produced no goals and just a single point.

Poyet, confident before the game that beating relegation was now a realistic ambition, knows as well as the fans that this is not even close to being good enough.

In his post-match e-mail circulated to supporters, he said: "Anytime, anyone can make a mistake and unfortunately today it was against us. It's up to the players, they are on the pitch -- it's about characters now, we'll wait and see."

But he went further in media comments, betraying a hint of despair. "People were making individual decisions," he said. "But [they were] not thinking as a team and that disappoints me. I'm getting a little bit fed up."

Those hanging on to his words must hope his candid admission that his handed-down squad lacks the quality needed at Premier League level suggests he has selected targets for the transfer window and expects to be able to take them to Sunderland. They will pray it does not imply that he has abandoned genuine hope of survival.

The next game, Sunday's FA Cup game at home to modest opposition, Carlisle United, will presumably see a number of changes. The reserves and youngsters on whom he may call could scarcely have mustered a less effective test for an unspectacular Villa team than the seniors who played.

Two days later, Manchester United arrive on Wearside for the first leg of the Capital Cup semifinals and a stronger Sunderland line-up can be expected, given the eventual prize of a trip to Wembley. United currently look eminently beatable to the extent that even the return visit to Old Trafford should hold no terrors.

But without wishing to pollute still further the romance of cup football, neither game matters as much to the greater good of Sunderland AFC as the next three league games: at Fulham and then at home to Stoke and Southampton before January ends.

The outcome of those three matches will determine whether Sunderland can, one month from now, be said to be back on course to stay up -- or clinging to Premier status by their fingertips.