Sunderland and Aston Villa: kindred spirits dreaming of past glories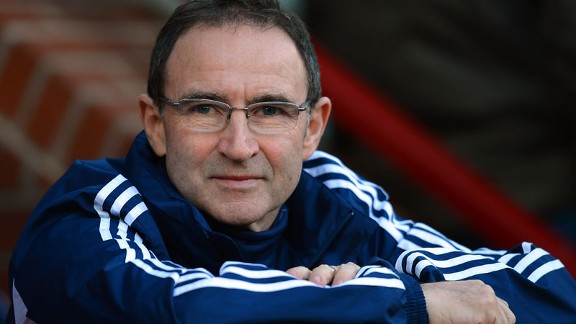 GettyImagesVilla and Sunderland have more in common than just Martin O'Neill.
As the eye descends from the top of the Premier League to the usual suspects in the middle and beneath, certain similarities present themselves.

Look at Sunderland and their New Year's Day opponents, Aston Villa. Each club claims a proud and massive history -- in Sunderland's case a somewhat ancient one, the last of six top-flight league titles having been won in 1936 -- and admits to an underachieving present.

There may be the odd sparring on the issue of which is the bigger club, but the two sets of fans have much in common. I loved the description a Villa follower, Tom Joliffe, came up with in his answers to the customary pre-match "from the enemy camp" questionnaire at Salut! Sunderland.

"To some extent they [Sunderland supporters] have a similar outlook to Villa fans generally," he said. "We're laid back, we like a bit of gallows humour, we like a bit of a moan too, but we're generally not arrogant, nor complete doom mongers."

And he's right. The only arrogance I ever detect among fellow Sunderland fans is a tendency to mock the size and facilities of most other stadiums. Even that is done with a dash of wit. "My garden shed," runs the song, "is bigger than this. It's got a door and a window; my garden shed is bigger than this."

Another shared characteristic is the ability to be super-critical of the contributions of players and especially managers whose association with their clubs ended on unhappy notes.

Villa supporters should theoretically be forever grateful to Martin O'Neill for three successive top-six Premier League finishes. Instead, many prefer to recall what they saw as a wasted opportunity in Europe, questionable tactics and an abrupt, angry departure when he fell out with owner Randy Lerner.

Similarly, Sunderland fans who remember the appalling start to the 2002-03 season, which ended with a 19-point relegation, blame Peter Reid, who was widely believed to have "lost" the dressing room by the time he was sacked as early as October. They forget the two promotions as champions and two seasons with top-seven Premier League finishes and some of the most exciting football seen on Wearside in decades, with Kevin Phillips and Niall Quinn tormenting most defences. All happened under Reid, who also rescued the club in his first few weeks from a humiliating drop to the third tier.

Then there was Steve Bruce, currently admired throughout English football for his striking progress at Hull City, exemplified by the massacre of Fulham on Saturday. In his second season as manager of Sunderland, he met owner Ellis Short's target of a top-10 place.

There were already doubters, and not just those dismayed that a Geordie with Newcastle-supporting roots should be in charge of Sunderland, who said he'd just been lucky with results at the end of the season. As I never tire of pointing out, it is unlikely they would have acknowledged the role of fortune had the results gone differently and Sunderland ended three or four positions lower.

In the event, it could not last and a poor start to the following campaign, including a home defeat to Newcastle, saw him dismissed in favour of O'Neill. I thought Short was right the make the change and also that Bruce then did his cause no service with his repeated whingeing about the tribal aspect to his fall from grace on Wearside. But I am pleased he has been able to show he is a pretty useful Premier League boss.

Perhaps Sunderland and Villa fans alike need to develop a sharper sense of proportion. I am not sure where either Paul Lambert or Gus Poyet fit into that part of their present clubs' immediate futures. Each will ultimately be judged on results. But Poyet has been a breath of fresh air at Sunderland, measured where Paolo Di Canio was uncontrollable, honest about his team's shortcomings without resorting to public tantrums and upbeat without being hopelessly over-optimistic.

It goes without saying that Sunderland must regard the Villa visit as crucial to their prospects of survival, improved as these have been by the four points won away at Everton and Cardiff over Christmas. We can safely forget the FA Cup visit of Carlisle United on Sunday; Villa at home in the league is one of a number of cup finals Sunderland seem likely to face between now and May.