Sunderland regain hope as Everton hoodoo broken
The sum of 10 Everton players, it can safely be said, is greater than a full Sunderland complement of 11. If that were not the case, Everton would not be fifth in the Premier League while Gus Poyet's men prop up the entire table.

Football has a way of turning even the most compelling logic on its head.

Roberto Martinez, the impressive manager at Goodison, said after his side's entirely unexpected 1-0 home defeat that he took pride in its second-half performance and its response to being reduced to 10 men by Tim Howard's sending off midway through the first period.

- Poyet hails Mannone heroics

The thrust of his argument was that 25 chances -- in fact, it may have been 26 -- and 11 corners told its own story; one converted opportunity might have led to a winner, and he could have asked no more.

Martinez would expect me to take a slightly different view, and I do, one undoubtedly coloured by the joy of finally witnessing, in this of all seasons, a Sunderland win at Goodison for the first time in decades of support. It hasn't happened much in my absence either, the last occasion being in the late 1990s. Given Sunderland's emphatic underdog status as the Boxing Day fixture began, it was also deserved.

Everton do possess superior players in most positions. There are beyond question more options on the bench. The great new prospect in English football, Ross Barkley, came on the second half and quickly made his presence felt with intelligent passing around the edge of the Sunderland penalty area and a string of long-range shots.

While largely content to soak up pressure and seek to tire Everton's depleted team with slow, methodical passing, backward more often than forward, the honest endeavour and passion of Poyet's team somehow kept the lead intact.

Indeed, Steven Fletcher missed two chances to kill the game off. The first, a reasonably strong shot from a good, unmarked position on the left, was well saved by Howard's replacement, Joel Robles; the second, a glorious one-on-one after a superb ball from Emanuele Giaccherini, would have been buried by the Fletcher of last season but went wide.

The Scottish striker is still struggling to regain sharpness after injury and sickness but showed a number of good touches. However, it was Ki Sung-Yueng, the midfielder on loan from Swansea, who created and seized the decisive moment of the game. Ki pounced on a muddle between Howard and Leon Osman, rounded the keeper and appeared to be brought down when a goal was inevitable.

It looked as clear a penalty and red card as will be seen all season, though replays led to some doubt about the extent of Howard's contact with the South Korean. Tension in the Goodison away section rose unbearably during the protracted process of getting a substitute keeper in position, but Ki took the penalty and kept calm enough to beat Robles' dive.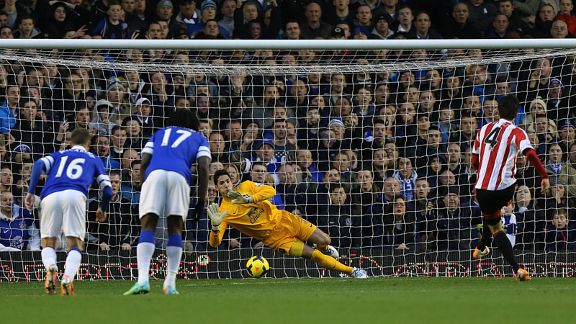 PA PhotosKi Sung-Yueng dusted himself off and put Sunderland ahead from the spot.
Ki went on to have a splendid game, full of tidy possession and accurate distribution, not qualities encountered often enough in Sunderland players. He would have been the man of the match but for Vito Mannone's best performance in a Sunderland jersey, his string of top-notch saves keeping the ball out of the Sunderland goal as Everton mounted repeated assaults with the minutes ticking away. Fabio Borini was excellent too, involved in most of Sunderland's attacking interludes and popping up on the line to head a goal-bound Everton effort over the bar.

The great fear before the game was that Everton would be able to exploit a rare central pairing of Valentin Roberge and Modibo Diakite, with John O'Shea injured and Wes Brown suspended. In fact, Roberge had a wonderful second half while his partner contributed important blocks. They can be satisfied with their joint shift against a team pressing for a top-six, possibly even top-four, finish.

The win did not lift Sunderland off bottom place, but the margin was cut to a single point. It will count for nothing, of course, if it turns out to be no more than a flash in the pan.

Poyet said afterward that three points from such a difficult game was the best Christmas present he could have been given. He was full of praise for his stand-in centre-backs, Roberge and Diakite, "absolutely exhausted" at the end.

Now the same commitment, and probably more clinical approach work and finishing, is needed if the next two games, at troubled Cardiff on Saturday and at home to a shaky Aston Villa on New Year's Day, are to produce the points that would build on the hope felt by Sunderland's boisterous support at Goodison.

When Everton's final corner was beaten out and men in red-and-white stripes raced forward with Robles only just ahead of them, having gone forward to boost chances of a last-ditch equaliser, the response to Lee Probert's final whistle was as if Sunderland supporters' ironic earlier chant -- "We're going to win the league" -- had just come true.