Sunderland's fight for survival grows tougher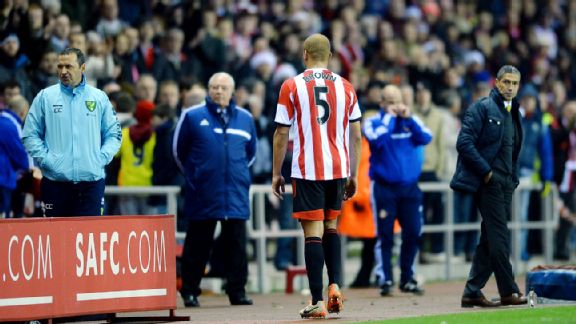 Mark Runnacles/Getty ImagesWes Brown's sending off capped a frustrating afternoon for Sunderland against Norwich City.
Just before Sunderland took on Norwich City at the Stadium of Light, the euphoria of the Capital One Cup quarter-final victory Chelsea suddenly disappeared.

"Forget the cup win," a friend said. "This is the game that defines our season."

Sunderland 0-0 Norwich City.

The best that can be said about that deeply disappointing result is that it enabled Sunderland to limp into double figures -- 10 points -- on a day when the teams just above them mostly lost. And that, quite simply, is not good enough.

- Report: Sunderland 0-0 Norwich City

This was precisely the sort of home game from which a team engaged in a serious battle to maintain Premier League status needs three points.

After an even first half, with chances at both ends and the better of them falling to Norwich, Sunderland had overwhelmingly the lion's share of possession. But just as in the first half, players wanted more time on the ball, especially in front goal, than modern Premier League defences tend to allow.

To add to the failure of converting territorial dominance into goals, the last minute brought calamity. Wes Brown was shown a straight red for an entirely unnecessary tackle on Ricky van Wolfswinkel near the corner flag.

The former Manchester United defender has good reason to feel aggrieved, though not as much as when he was quite wrongly sent off at Stoke City, a decision so ludicrous that the FA overturned it and the offending referee, Kevin Friend, found himself deprived of top-flight action.

Sunderland have cause to feel that Martin Atkinson's presence makes any game a little more difficult to win. Feelings still run high over his decision in September to disallow what would have been a second equaliser at home to Arsenal, blowing instead for a Bacary Sagna foul on scorer Jozy Altidore for a free kick.

Back at the Stadium of Light on Saturday, he had a patchy game, correctly ruling out a penalty appeal when no hand was touched, but still gave Norwich the benefit of doubt on far too many occasions, including another, much stronger shout for a penalty when Ondrej Celustka was bundled off the ball.

This time, however, I suspect that an appeal would be unsuccessful. It was a yellow card offence in my view, but the difference between the sensible decision and the stricter one may not be sufficient to meet the high test applied by FA when sendings-off are disputed.

So a key defender is likely to be out of the team for tough visits over Christmas to Everton and Cardiff and for Aston Villa at home on New Year's Day. A team that cannot overpower Norwich on home ground is bound to start as underdogs in the first two of those games.

It was game that exposed many of Sunderland's weaknesses. The starting 11 was probably as close as possible to Gus Poyet's preferred formation, with the exception that Steven Fletcher was still on the bench after recovering from a bout of sickness.

Altidore continued to frustrate, running strongly and making space for himself on occasion but still not looking a natural goalscorer. He was guilty of dallying so long with one first-half chance that a defender was easily able to block his delayed shot.

When his replacement, Fletcher, out-ran the otherwise safe Norwich keeper, John Ruddy for a loose ball, luring him out towards a corner flag, an even more glaring opportunity was wasted. The ball was crossed to Sung-Yueng Ki who, from 25 yards, went for a chip, with only Michael Turner back to cover for the stranded Ruddy, but hit it too high.

There had been some crisp passing out of defence and in midfield, gradually giving Sunderland ascendancy over the tidy but unremarkable visitors, but a lack of composure in the final third, and the absence of anything close to sharp finishing instincts, cost Sunderland two points.

"We were not good enough to win," said Poyet in a downbeat but honest post-match e-mail to supporters. "There's no place to hide."

With just four points between Poyet's team and a position outside the bottom three, it would be absurd to write off Sunderland just yet. Yet the inescapable reality is that only a run of superhuman displays, or a complete transformation of the sort of luck that has been seen in the first half of the season, can now save the club from an embarrassing, costly and menacing descent into the Championship.

A league cup semi-final encounter with Manchester United, whatever the two legs produce, will seem scant consolation if that is how the season ends.