'Friendly Final' recalled as relegation-haunted Sunderland face Norwich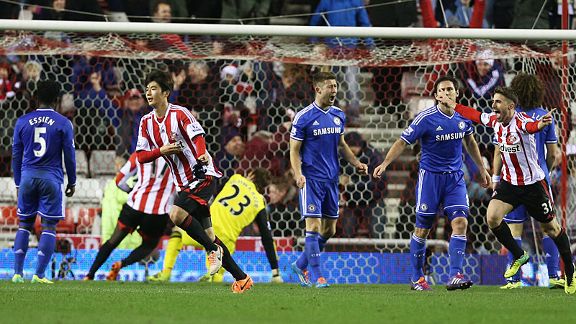 GettyImagesGary Cahill screams in frustration as Sunderland begin to celebrate Ki Sung-Yueng's winner.
If only the minor hurdle of a Capitol One Cup semifinal over two legs against Manchester United can be crossed, Sunderland will meet Manchester City or -- further annoying the gloryseeking promoters -- West Ham in the final at Wembley on March 2.

Where, I wonder with heavy heart lightened only by the flicker of optimism ignited by recent displays, will that date find Gus Poyet and his team in terms of the desperate battle against relegation?

Hopes of pulling clear of the drop zone will rise significantly if the impassioned and ultimately deserved victory over Chelsea in the fifth round on Tuesday can inspire Sunderland players to an arguably more important win, at home to Norwich City in this weekend's Premier League programme.

On an emotional level, nothing less than three points will do, even if the mathematical possibilities of survival would not, strictly speaking, be greatly altered by a draw or defeat. Quite apart from their own pressing needs, Sunderland require such teams as Norwich to be kept firmly in contention for bottom three places.

The two clubs share a fascinating historical connection with this coupling of league cup and relegation. Everyone associated with Norwich and Sunderland, and many who are not, know about the 1985 Friendly Final of what was then the Milk Cup. The exemplary conduct of both sets of supporters was acclaimed as a model of civilised behaviour in a sport then bearing the ugly scars of hooliganism inside and outside stadiums.

Despite the prevailing climate of yobbery, a Wembley visit was always a little different. You could even, in those days, buy a beer during the match and carry it back to your seat. I watched the game with my brother, full of hope at kickoff but increasingly in need of beer as the game wore on. Sunderland played atrociously, losing 1-0 with Clive Walker, a hero of the semis (coincidentally against Chelsea) missing a penalty. And both clubs were relegated.

Would I settle now for winning the cup but going down? I would not; if it were possible to accept runner-up status, or even the semifinal exit every pundit will surely predict, in return for a guarantee of preserving Premier status, my choice would be made in an instant.

Neutrals looking on from the outside can be excused for assuming a team at the bottom just before Christmas, five points short of a position of safety, is destined to go down.

My Norwich City interviewee at Salut! Sunderland, Melissa Rudd, an assistant producer at talkSPORT radio, is the latest to reach the same conclusion, tipping Sunderland to be relegated with Crystal Palace and Fulham (in other words, the present bottom three occupying the same places come May).

Although I have been less than a picture of optimism this season, I feel these easy calculations about the foot of the table may have to be revised if Sunderland do beat Norwich and then take six, four or even two points from tough subsequent trips to Everton and Cardiff. It is a lot to ask, but Poyet knows perfectly well that the outcome of the challenge he has accepted depends on his players' ability to produce such returns.

In her engaging responses to the usual questions, Rudd made me wish Sunderland's goal-shy strikers could look forward to facing a team with a goalkeeper she remembers without false affection.

Asked to name and shame any player who should never have been allowed to wear Norwich colours, she replied: "The worst player I've ever seen was Michael Theoklitos -- a goalkeeper we signed from Melbourne Victory. He made one appearance for us -- the infamous 7-1 defeat to Colchester in 2009. I've never seen a goalkeeping performance like it. It was like watching a schoolboy game where the keeper had been sent off and all the subs had been made, so an outfield player who'd never played in goal before was in between the sticks.

"It got to the stage where a cheer erupted every time he touched the ball other than retrieving it from the back of the net. And that wasn't very often! Worst signing ever."

I discovered from some elementary internet research that Theoklitos quickly recognised his first and last game for Norwich was not his finest hour and a half. He returned to Australia, where he now plays for the Brisbane Roar, and in time changed his name by deed poll to Theo. It would be priceless if he had done so because of the lingering shame of his only appearance in the Norwich goal, but his more mundane explanation was that since everyone in football knew him as Theo (Norwich fans having, perhaps, their own nicknames), it seemed sensible to formalise it.

Sadly, a guest re-appearance by Theo in the Norwich team for Saturday afternoon is too much to count on. Sunderland's hopes may rest on John Ruddy having the sort of game he had, not quite reminiscent of Theo but bad enough all the same, when Manchester City walloped the Canaries 7-0 in November.