Spirited cup comeback fires hope on another front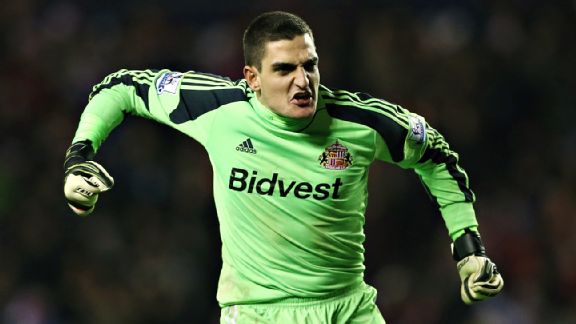 Ian MacNicol/AFP/Getty ImagesVito Mannone and Sunderland had plenty to celebrate after knocking out Chelsea in the quarterfinals of the Capital One Cup.
It was a night when pride and passion, plus heaps of persistence, triumphed over superior skill.

Few Sunderland supporters would dispute that Chelsea have players of higher quality. They play in the Champions League and are considered by many as the most serious obstacle to Manchester City winning the Premier League title; Sunderland prop up the league. Yet Gus Poyet led his team to the Capital One Cup semi-finals .

- Report: Sunderland 2-1 Chelsea

The word on home supporters' lips before Tuesday night's game was that this could be a night to savour, and a relaxing one at that with nothing at stake in the grim battle at the bottom of the table.

Chelsea, 4-3 victors at the Stadium of Light two weeks ago, were confidently tipped to win again, and probably by a greater margin.

The first half was a reasonably balanced contest of few real thrills and limited appeal. The second half had barely started when Cesar Azpilicueta was sent scampering down the right with all the time and space he needed to weigh up the options and fire over an enticing low cross. Frank Lampard tried to convert it, but Sunderland's Lee Cattermole beat him to it. Who said Sunderland cannot score? They do it with ease, albeit at the wrong end.

What followed was a long period of emphatic Chelsea possession and threat. Sunderland made glaring repetition of their dangerous first-half habit of giving away the ball. If the defence managed to hold firm, it was still difficult to see where an equaliser might come from, let alone a winner. That both did come was the result of Poyet's substitutions -- Fabio Borini for Adam Johnson and Ki Sung Yueng for Craig Gardner.

Borini pounced on a loose ball after Jozy Altidore had been unable to convert a good chance two minutes from the end of normal time. His finish from a tight angle, when the opportunity appeared to have been lost, was impressive. The Italian forward then had chances before the end, and again in extra time, to clinch the tie. But it was Ki who made himself a Wearside hero, cutting inside with a minute left to score with a cool, low shot into the corner past the excellent Mark Schwarzer, all of 41 years old.

It had been a remarkable comeback, with most of the late pressure on Schwarzer's goal rather than on Vito Mannone's. The Australian keeper had enjoyed a comfortable night until some way into the second half when Sunderland sensed the game was not lost after all. Only a superb save had prevented a Ki header putting Sunderland 2-1 up minutes before the winner.

There were many heartwarming performances, but none better than Emanuele Giaccherini's. His running, enterprise and occasional flashes of genuine class were maintained from start to finish, a span of 127 minutes.

Cup runs still feel good even if the crowds are so paltry -- just 20,731 for a quarterfinal of a senior competition ending at Wembley is lamentable -- but there is so much other, more important work for Poyet and his inherited squad to do.

When Sunderland defeated Chelsea over two legs in the 1984-84 League Cup, it was a result that took them to Wembley. Sadly, they not only lost the final but went down. The winners at Wembley were Norwich, Premier League visitors on Saturday. Nothing must be allowed to go wrong this time.