Goalless, 2 points surrendered -- but Bah Humbugs suspended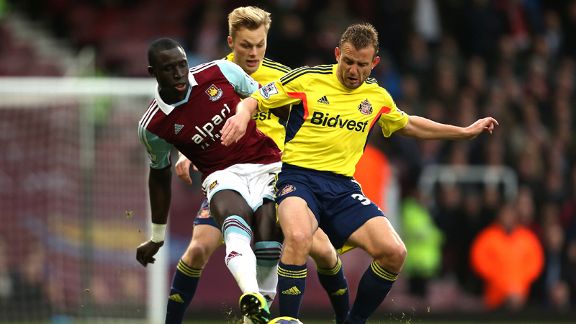 PA PhotosMohamed Diame and Lee Cattermole challenge for the ball during West Ham's goalless draw against Sunderland.
To read most of the words Sunderland coach Gus Poyet sent to supporters, you would be forgiven for thinking he had witnessed a morale-boosting, hope-enhancing away win at West Ham United.

"Our best performance". . . ."better than Manchester City [a 1-0 win] because it was for 94 minutes". . . "we proved today that it's possible" . . ."I want to see this every week".

West Ham United 0-0 Sunderland.

Those were the positive snippets I remembered from first reading of Poyet's customary post-match e-mail. Perhaps the rebuke from a reader after my last appearance on these pages -- "you really are a miserable git aren't you?" was Nigel Nicholson's considered assessment, and it was wholly justified -- was ringing in my ears.

When I read Poyet's message a second time, I recognised the tell-tale qualifying phrases: "even if we didn't win", "we need to score a goal". The gap between the dark cellar in which Sunderland are confined and the daylight of a position as high as fourth-bottom was still two wins.

Most Premier League teams will play a great deal worse than Sunderland did on Saturday, whether at Upton Park or any other stadium, and win convincingly. At the bottom, the hurdles always seem higher.

Poyet was left to ponder the missed chances, the crossbar that defied Phil Bardsley and the saves by Jussi Jaaskelainen. "I wanted to go over to the away fans and celebrate a victory," the boss wrote. "They should be proud of the team they watched."

His thoughts, read as a whole, echoed those of my co-contributor, Pete Sixsmith, whose half-time comment -- "streets ahead but lack a finish" -- was remarkably similar to his verdict as Sunderland's old friend Andre Marriner whistled for time. Streets had become miles, the measure chosen by him to express Sunderland's superiority over West Ham, but the ability to finish had not changed.

Even leaving the Bardsley shot that struck the bar, Jozy Altidore, Emanuele Giaccherini, Fabio Borini and Ki Sung-Yueng had good chances. They could not take them and all the praise in the world won't alter the fact that teams that cannot score cannot win.

My deal with the fellow supporter who called me a "miserable git" was that I was assured of Christmas greetings from him provided I did not respond with a Bah Humbug. Why the Dickens did he suspect I'd think of any such thing?

My part of the deal will be kept.

I will try to remember only the complimentary elements of Poyet's appraisal rather than expand on the thought that being unable to beat one of the few teams demonstrably worse than Sunderland can be taken as a bad sign.

I will avoid the obvious point that failing to score a single goal from so much opportunity does little to boost hopes of survival. As it's Christmas, I shall steer well clear of saying anything about where I still fear Sunderland will be playing next season.

Instead, I will allow myself to be seduced by Poyet's way with words -- at Salut! Sunderland, we cannot decide whether to call them Pure Poyetry or Poyetry in Motion -- and dream once more of a storming second half of the season, without which pessimism will come streaming back.

Poyet believes he is making progress with players he did not choose but has had to make his own since Paolo Di Canio's dismissal. He brought back the wayward Lee Cattermole, so often suspended or injured, at West Ham and the midfield was stronger as a consequence. Unlike at home against Tottenham Hotspur last weekend, he resisted the appeal of gambling with both Altidore and Steven Fletcher in attack. In any other circumstances than those in which Sunderland find themselves, the performance that ensued was every bit the source of pride that Poyet claimed.

If he can now add the habit of winning to the promise of visible improvement, Sunderland do have the glimmer of a chance. I long to be able to write, a few weeks from now, of a remarkable transformation in results that has added many points to the present feeble tally of nine.

But there can be no further delays. By all means build, as Poyet says, on the encouraging aspects of what happened at Upton Park, but do it quickly. I care what happens in the midweek League Cup quarter final against Chelsea, but not nearly as much as I need that winning habit to take hold with the game after that, Norwich City at home next Saturday.